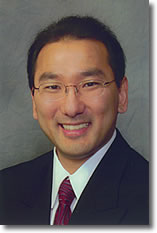 Union City, CA (PRWEB) June 02, 2014
Residents of Union City now benefit from the innovative laser gum surgery called Laser Assisted New Attachment Procedure (LANAP®). Dr. Colin Yoshida offers LANAP® to treat periodontal disease, a wide-spread problem that can lead to tooth loss. With the aid of this new gum surgery alternative, Dr. Yoshida removes diseased tissue and encourages the growth of healthy gums and bone. Unlike many dental procedures, which simply attempt to maintain healthy tissue, LANAP® actually reverses the progression of disease. The laser surgery performed by Dr. Yoshida has high success rates and short healing times.
Periodontal disease is more commonly known as gum disease. It begins with redness and inflammation, and progresses as bacterial infections grow. If left untreated, periodontal disease undermines teeth, because the infection grows between teeth and the gums. The infection eats away at healthy gum and bone until the teeth loosen. Eventually, the disease progresses so far, that dentists cannot save the affected teeth.
Dr. Yoshida treats residents of Union City with laser gum surgery to save them the pain, expense, and time involved in extracting and replacing teeth. He inserts a small LANAP® probe into diseased pockets between the gums and teeth, and a laser within the probe removes the bacteria and diseased tissue. Unlike treatments for cavities, tooth fractures, and other dental problems, LANAP® does more than maintain the remaining healthy tissue. It stimulates the growth of new tissue to take the place of the diseased tissue. Dr. Yoshida competently performs LANAP® quickly and with minimal discomfort, giving patients a reason to be happy during treatment, as well as afterword.
As a gum surgery alternative, LANAP® allows Dr. Yoshida to avoid the painful, invasive surgery of cutting away diseased tissue. During traditional surgery, dentists cannot prevent removing healthy gum, along with the disease, which results in slower healing. Dr. Yoshida's use of LANAP® keeps healthy tissues in place, which reduces the discomfort and down-time needed following treatment. Laser gum surgery makes treatment more accessible for the many Union City residents who suffer from periodontal disease. For more information about Dr. Yoshida, and his use of the gum surgery alternative LANAP®, please contact his office by email or telephone.
About the Doctor
Colin T. Yoshida, DDS is a general dentist offering personalized dental care for patients in Fremont, CA. Dr. Colin Yoshida graduated from University of the Pacific School of Dentistry and is part of one percent of dental professionals providing the LANAP® FDA cleared laser procedure for gum disease treatment. To learn more about Dr. Yoshida and his dental services, visit his website at http://www.fremontdentistry.com and call (510) 648-3184.