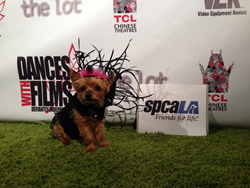 Dog lovers in the Los Angeles area are encouraged to make a donation to the spcaLA. Tickets are still available to this Friday's screening at the Dances With Films festival.
Los Angeles (PRWEB) June 03, 2014
The film Gone Doggy Gone, produced by Buzzworm Films, has selected spcaLA as their official West Coast charity partner for the Dances with Films festival currently underway. Dog lovers in the Los Angeles area are encouraged to make a donation to the spcaLA. Tickets to the screening taking place this Friday can be purchased online.
The award-winning feature film Gone Doggy Gone has been accepted by Dances with Films, Los Angeles' largest discovery film festival of emerging talent. It will be shown at on June 6 at Hollywood's famed Chinese Theaters. The film has won top awards at film festivals over the past few months and is now being represented by Circus Road Films for all rights in North America. The trailer can be viewed at GoneDoggyGone.com.
The comedy is about a couple—stuck in a lack-luster marriage—that treat their dog like it is their own human baby (literally). Working the grind in Los Angeles, they leave little time for each other. What free time they have is spent doting on the dog, until it gets kidnapped for ransom. The movie explores the lengths people will go to save their "babies"—which for many modern couples are not human, but covered in fur. The filmmakers refer to these as "fur babies."
While the plot makes for a great comedy caper, pets being kidnapped and held for ransom or sold online for profit is a very real phenomenon according to Kasi Brown and Brandon Walter who co-wrote, co-directed and co-star in the film.
As zany as the plot may sound, the inspiration came from real-life stories. So-called "pet flipping" has fast become a profitable business all across the country and it is further perpetuated by the fact that law enforcement won't take reports of stolen pets. This injustice is also depicted within the film, albeit with a more "comical effect" than in real life, added Brown whose real-life pet Yorkie named Laila stars in the film as the kidnapped pooch.
The original inspiration came when Brown's dog sitter started calling Laila her 'BFF' and taking her to the movies and nail appointments.
"She started bringing my dog home later and later each night," said Brown. "I thought, what if one night she just never brought her home?"
Gone Doggy Gone attempts to explore this new type of 'parenthood' taking place in today's society.
"Are these fur babies becoming a surrogate for human babies?" asked Brown, adding that their research uncovered some shocking (but hilarious) statistics.
"According to what we found," said Walter. "One in five people let their dog sleep in their bed every night, 61 percent of women tell their dog about their problems, 63 percent of dog owners give their pets presents at Christmas and 14 percent of men admit their dogs show them more affection than their loved ones."
"What's next?" joked Walter. "Naturally, it will be fur-baby strollers and fur-baby Bjorns." (Both of which are included in the film of course).
"Through their journey to attempt to reclaim their dog, our protagonists embark on a cross country chase, get robbed at gunpoint, and spend a dark evening with a psychic seer where they uncover their deepest fears and reconnect with each other," said Walter.
The result is a hilarious film getting some serious recognition. In addition to Dances With Films, the movie has also been accepted by the Lighthouse International Film Festival in New Jersey (where the film will be screened on June 6 as well). The film won Best of Fest and the Audience Award at the First Glance Film Fest Los Angeles as well as the Audience Award the Julien Dubuque International Film Festival.
Gone Doggy Gone is a production of Buzzworm Films, produced by Adriane Zaudke (of Alleged Industries) and Rebecca Hu (of Kungfu-Barbie Productions). For more information about the film, to view the trailer and see a complete list of cast and crew, go to GoneDoggyGone.com.
To purchase tickets for the film's west coast screening at 5 p.m. on June 6, at the Chinese 6 Theater at Hollywood and Highland; or the (simultaneous) east coast screening at 8 p.m. on June 6 in Long Island Beach, New Jersey, go to GoneDoggyGone.com.
###