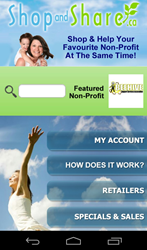 Consumers can make online purchases right from their mobile devices, and simultaneously support their favourite non-profit without donating out-of-pocket
Calgary, AB (PRWEB) June 10, 2014
ShopandShare.ca, an innovative Canadian website that pairs online shopping with automatic donations to non-profits, has made their popular shopping website mobile-friendly.
ShopandShare.ca has made it even easier for shoppers to make purchases, while generating automatic donations, with the launch of their mobile website. Consumers can make online purchases right from their mobile devices, and simultaneously support their favourite non-profit without donating out-of-pocket, with ShopandShare.ca's unique approach to charitable giving.
Shoppers can log on to ShopandShare.ca from their mobile devices or desktops and shop from their favourite retailers and travel sites. A percentage of the money they spend is automatically allocated to their non-profit of choice. The best part is, it doesn't cost shoppers a penny more.
Online shoppers can find their favourite retailers and travel sites online at ShopandShare.ca, such as Sears, Indigo/Chapters, Expedia, Amazon, Toys R Us, Hotels.com, Old Navy, and over 200 other big names. Purchases are all guaranteed by the individual retailers, and automatically tracked to ensure the donations are given to the supporters' chosen charities.
With their new mobile capabilities, ShopandShare.ca is latching onto the popular mobile movement for shoppers. In Canada, 56% of Internet users order goods and services online, and 56% of people own a smart phone. Of all mobile users, about 50% of them use their phones as their primary Internet source.
Other notable online shopping and mobile statistics:

Online shopping is an over $18 billion industry per year in Canada alone
The average online shopper makes 13 online purchases a year
72% of tablet users make purchases from their devices weekly