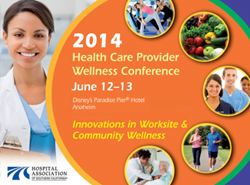 "We are excited to be a part of a conference, which helps organizations learn about the importance of developing and maintaining a sustainable employee wellness initiative." - Erica Wantke, BSDI VP of Business Development
(PRWEB) June 04, 2014
BSDI, an award-winning health technology company known for its excellence in corporate wellness programs for over 20 years, announced today that they will be attending the fourth annual Health Care Provider Wellness Conference hosted by the Hospital Association of Southern California (HASC). The conference will be held June 12 – 13 at Disney's Paradise Pier Hotel in Anaheim, California.
This year's conference will focus on designing and implementing solid wellness programs that result in healthy and engaged employees and a stronger bottom line. Bringing together health care providers, medical officers, and hospital directors, the conference looks to collaborate on ways to improve health and develop a shift within the workplace away from a transaction-based culture to a culture of whole person well-being.
"We are excited to be a part of a conference, which helps organizations learn about the importance of developing and maintaining a sustainable employee wellness initiative," said Erica Wantke, BSDI VP of Business Development, who will be attending the show. "We have a large number of hospital clients who currently utilize both software products, our Motivation Classic and Motivation Alliance web portals. It will be wonderful to meet with so many health care providers throughout the two days to show them how beneficial our software could be for them."
This year will be BSDI's inaugural year at the conference. Kevin Vondergeest, Wellness Coordinator of Lodi Health in Lodi, CA and client of BSDI since 2009, encouraged the company to bring their expertise to the conference. Lodi Health is a Gold Achievement recipient of the American Heart Association Fit-Friendly Worksite and has recently re-launched with BSDI's Motivation Alliance health promotion portal.
"BSDI has provided a solid product that we absolutely love," exclaimed Vondergeest. "The Motivation Alliance is very engaging to our wellness clients and has received nothing but rave reviews. I just know that other hospital wellness programs could benefit from a fun, engaging platform. Clients are engaged in daily wellness challenges, they love adding Allies for motivation and support, leaving encouraging messages for their friends and feel that the logs for exercise, food and biometrics are outstanding."
"We couldn't be more pleased at Lodi Health," continued Vondergeest. "This year we plan on integrating Motivation Alliance into our quarterly health insurance rebate. We feel the web portal is engaging to encourage healthy behavior… we will offer participants the chance to earn half of their reward requirements for the quarter for using their personal portal. With the 406 HRA's completed and over 100 site visits a day we hope to achieve a greater than 80% participation rate for 2014 with the Alliance platform."
BSDI will be located at exhibit booth #1. The BSDI booth will feature engaging product demonstrations and health-related giveaways and prize drawings. The company encourages conference participants to engage with the company and the conference events during the conference by utilizing these social media hashtags: #wellness2014, the official hashtag of HASC; #BSDI, the official hashtag of BSDI; and #BSDIHASC14, the official BSDI hashtag of the conference.
ABOUT BSDI:
Founded by Dr. Mark Brittingham in 1991, BSDI has been an influential force in health promotion for over 20 years. BSDI's focus on advanced web technologies and sophisticated data analysis has proven attractive to progressive corporate, government, hospital, and commercial health and wellness facilities. The Motivation® web portal has become one of the industry's most secure and trusted technologies (HIPAA, HITECH, Section 508, and GINA compliant) and our hosted applications software delivery removes the need for organizations to handle complicated installation, set-up, and site maintenance. BSDI is a 5-time winner of the prestigious Nova7 Award for "Best Computerized Technology Supplier" and continues to be recognized as a cutting-edge industry leader.