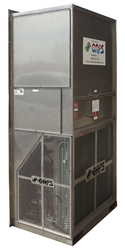 Standing up to the rigors of testing...provides us with a real sense of accomplishment and a validation of our processes.
Houston, TX (PRWEB) June 05, 2014
Custom Air Products & Services, Inc. (CAPS), a leading commercial and industrial heating, ventilation and air conditioning (HVAC) company based in Houston, Texas (US) recently obtained third party certifications for their lines of room air conditions and heat pumps as well as wall mount air conditioning systems for use in Class I, Division 2, Groups B, C, and D hazardous locations.
The accrediting body, QPS, a nationally recognized testing laboratory (NRTL) is recognized by OSHA (Occupational Safety and Health Administration) and internationally accredited as an independent third-party testing, certification and field evaluation body. "Seeking certification was a long and arduous process, but one that was good for us in a number of ways," explained CAPS Electrical Engineering Department's Mike Bozich. "Standing up to the rigors of having QPS test and evaluate our products to the relevant standards and receiving comprehensive test and evaluation reports provides us with a real sense of accomplishment and a validation of our processes. Being able to display the QPS certification mark on our products allows us to prove to our customers, and their industries, that we have a continued commitment to providing the best products possible to them, products that meet their strenuous requirements."
Obtaining these certifications enables CAPS to offer the petrochemical and refining industries the finest line of industrial air conditioning equipment available for general purpose (unclassified) and Division 2 hazardous locations worldwide. Ranging in capacities from 8,000 BTUH to 72,000 BTUH, CAPS can provide customer solutions for many applications requiring air conditioning, heating, ventilation, and pressurization.
About Custom Air Products & Services
Custom Air Products & Services, Inc. is a full-service HVAC company that specializes in the design, construction, installation, modification, and servicing of industrial and commercial air conditioning equipment. CAPS employees are committed to providing exceptional custom design and quality workmanship at competitive prices.
Custom Air Products & Services currently occupies five modern facilities, totaling 180,000 square feet in size. These buildings include administrative and engineering offices, training facilities, a filter warehouse, and service shops for fabrication, manufacturing, electrical modifications, as well as material inventory and shipping and receiving. CAPS services are provided to customers throughout the United States and Mexico while their manufactured products have been delivered to sites around the world. Currently CAPS has equipment operating on six (6) continents and in 52 countries.
For more information, contact Custom Air Products at 713.460.9009 or visit them on the web at http://www.customairproducts.com.