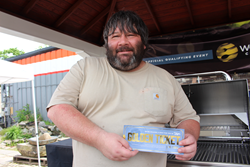 We were thrilled to see so many families enjoying the Bull Burger Battle. We are looking forward to hosting more great events in the future.
Mahopac, NY (PRWEB) June 04, 2014
Best in Backyards is happy to announce that the first Bull Burger Battle of 2014 was a huge success, thanks to a fantastic group of competitors whose creativity and talents led to close scores and an exciting awards ceremony.
Skip Day of the Swamp Pit BBQ team took first place at the event, which was held at Best in Backyards in Mahopac, NY. His "Infamous Skippy Burger" consisted of a patty melt on two slices of Rye bread, with American and pepper jack cheese, sautéed onions and shallots. Day also used what he described as a "Jersey-inspired salami."
"We're ecstatic. I actually didn't think we hit it as well as we did," he said shortly after the winners were announced. Traveling from his home in Wantagh, NY, Day brought along his daughter Elizabeth as an assistant for the cook-off. "She told me, 'You're out of your mind, these are the best burgers I've had, the best ones you made.' So I felt much more confident then, but I came up knowing that a lot of competitors out here had a lot of good stuff."
Second place went to Chris Holihan (Mahopac, NY) of Holihan's Beer Me BBQ; third to Tim Bucolo (Mount Kisco, NY) of Crafty 'Cue BBQ; fourth to James Russell (Mahopac, NY) of Crossroads Deli & Catering; and fifth to Dan Herman (Bellmore, NY) of TBD BBQ. Donna Massaro (Mahopac, NY) of The Freight House Cafe came in sixth with a veggie burger.
Judges Mike Bennett of 1007. WHUD, Katie DeMarco of Putnam County Tourism, Jennifer Maher of the Putnam County Chamber of Commerce and John Turiano of Westchester Magazine scored the burgers on appearance, execution and taste. Day's entry earned 91.5 points, while the second and third place burgers earned 88.5 and 87.83 points, respectively.
With his first-place creation, Day has won a premium Bull outdoor Angus grill (valued at $2,500) and a trip to Las Vegas to compete in the World Food Championships in November.
Day, a barbecue-lover who has been grilling since he was 8 years old, first dreamt up the Infamous Skippy Burger in 2006 for a cooking gathering. He has since made tweaks to the recipe for events like the Bull Burger Battle. A similar version won first place at a Long Island burger cook-off in 2009.
Other burgers turned in to the judges featured jalapeno peppers, roasted peppers, coleslaw, bacon and more, plus a range of buns and rolls. The other competitors were Jay Cho (Poughkeepsie, NY), a student at the Culinary Institute of America; David Conti (Seymour, CT) of Red Planet BBQ; John Delahanty (Mahopac, NY) of Johnny D's BBQ & Burgers; Dan Maffucci (Mahopac, NY) of Route 6 Taphouse; Joseph Maino (Staten Island, NY) of TailgateJoe.com; Joe Saccente (Shrub Oak, NY) of Mr. Dirt's BBQ; and Darcy Ann Sala (Poughkeepsie, NY), a chef instructor for Dutchess County BOCES.
While the competitors concentrated on their grills, family and friends enjoyed face painting, food tastings (delicious pizza made on the grill, thanks to a pizza stone from Bull Outdoor Products), product demonstrations and live radio entertainment from 100.7 WHUD.
The children played on the many swing sets and trampolines on display at the showroom. Many attendees entered a drawing in the hopes of winning a trip to Las Vegas to watch the World Food Championships live. With all the activity, even a couple of brief rain showers could not stop all the fun!
"We were thrilled to see so many families enjoying the Bull Burger Battle," said Scott Honigsberg, one of the owners of Best in Backyards. "We are looking forward to hosting more great events in the future."
--
About Best in Backyards
Best in Backyards is the retail division of Eastern Jungle Gym, a leading manufacturer and supplier of wooden swing sets for 22 years. Best in Backyards superstores are located in Connecticut and New York.