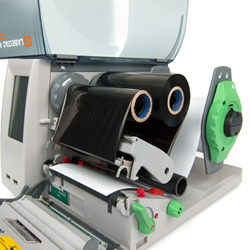 The LabelTac 4 Ultra has made my life so much easier! You can't get much better. It's fast and simple to learn.
Lake Oswego, OR (PRWEB) June 06, 2014
Large industrial facilities go through labels like water flows through a faucet. Printing thousands of labels per day requires an ultimate work horse in a printer. Creative Safety Supply is now offering the LabelTac 4 Ultra that is considered in the market to be the industrial leading label printer that was designed to be extremely user friendly with its touch screen LDC display that is rated as the easiest to use among industrial label printers.
LabelTac 4 Ultra label printer reduces set up and die cut calibration time with its easy-to-use material change-out system. This desktop printer can print up to 10,000 labels per day, seven days per week making it one of the most popular desktop printers for facilities requiring massive amounts of labels. The Ultra can print from 0.25" to 4" wide labels that can be used for any type of identification in production, warehousing, agriculture, or wherever labels are required. Largest areas of usage include but not limited to asset ID, cable and wire ID, bar coding and circuit board ID, and die cuts. The LabelTac Ultra is the first and only Thermal Printer to print labels for mac computers right out of the box. Label printing from a Mac is simple and includes a Mac drive.
Other features included with the LabelTac 4 Ultra:

Can be used with both a Mac and PC
Quick and fast supply change outs
Printer identifies what is loaded
Touch screen for adjustment speed, temperature, and material size
Automatic calibration
Side loading design for easy access to materials
Multiple ways to connect: USB, WLAN, and Bluetooth
Scanner can be connected directly through USB
Excellent for Die-Cut Labels – quickly calibrates itself
A warehouse worker commented, "The LabelTac 4 Ultra has made my life so much easier! You can't get much better. It's fast and simple to learn."
For more information about the LabelTac 4 Ultra printer, please visit Creative Safety Supply at http://www.creativesafetysupply.com or call toll-free (866)777-1360 to speak with a professional representative.