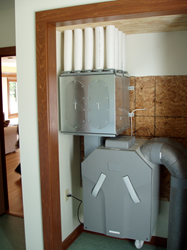 Greenland, NH (PRWEB) June 06, 2014
Zehnder is proud to be a Gold Sponsor for two Habitat for Humanity homes to be built in Lawrence, MA during the 2014 Builders Blitz. Zehnder will provide the heat recovery ventilation (HRV) systems, ensuring lower heating/cooling bills and continuous fresh air for the inhabitants for the years to come. The Merrimack Valley Habitat for Humanity will bring together local builders, plumbers, electricians, landscapers and dozens of volunteers to build the two homes in less than one week! This is the third time since 2006 that the Merrimack Valley Habitat for Humanity has participated in the Blitz.
The Merrimack Valley Habitat of Humanity 2014 Home Builders Blitz is part of a nationwide event taking place across the country from June 9-13. During this week-long blitz, more than 250 homes will be built including two houses in the Lower Tower Hill section of Lawrence. This event is endorsed by the National Association of Home Builders and sponsored by a number of companies, including Zehnder America. The Lawrence projects are extra special because the two homes will be constructed minutes away from the Zehnder showroom and warehouse on 187 Neck Rd., Haverhill, MA. Zehnder will be helping with the installation support during the building with both professionals and volunteers.
Zehnder has participated in Habitat for Humanity projects across the country during the last several years including projects in CA, DC, VT, WA and WI. According to David Chouvelon, Vice President - Zehnder America, Head of Comfosystems Business Unit, "We are a natural fit for Habitat for Humanity projects because our system approach makes it easy to install our HRV system with volunteers." Most HRV/ERV manufacturers sell the HRV/ERV but not the air distribution components, leaving it up to the installer to find the correct parts to fit the unit. With Zehnder, HRV or ERV systems are designed with all necessary installation components from the tubing to the air distribution components to the central HRV. This takes out the guesswork for installers and makes it very easy for Habitat for Humanity projects with all the components organized and accumulated for an easier installation.
About Zehnder America
Zehnder America is the leader in high-efficiency Heat Recovery Ventilators (HRV) and Energy Recovery Ventilators (ERV) in North America. For all high-performance homes, Zehnder's technical team will help with the designing of the Zehnder ventilation system to ensure optimal indoor air quality and comfortable living. Zehnder America is a division of the Zehnder Group, which has 3200 employees worldwide and specializes in advanced heating, cooling, and ventilation solutions. The Zehnder Group has been in business since 1895.