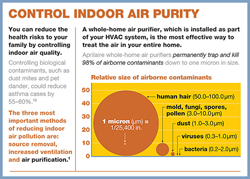 Dust mites can make families sick. Controlling indoor air purity with new methods is key.
Madison, Wisconsin (PRWEB) June 08, 2014
Dust mites don't just look gross - they can actually make you and your family sick. There are many different types of airborne containments, along with dust mites, in every family's home. These various microscopic particles aggravate respiratory conditions, induce allergic reactions and negatively impact an individual's overall health.
Some Gross Facts About Dust Mites:
1. They do not bite, sting or burrow. The allergic reaction is to their body parts and fecal matter becoming airborne!
2. Dust mites hit their multiplying peak during warm, wet weather.
3. A typical used mattress may have anywhere from 100,000 to 10 million dust mites inside!
How to Minimize the Dust Mite Population in Your Home
The three most important methods for reducing indoor air pollution are source removal, increased ventilation and air purification. Reducing the amount of contaminates that make their way indoors is a start, but no family can keep their house free of all the different types of invaders. Dust mites in particular are pesky intruders, and even with mattress and couch covers, continual cleaning and the removal of carpets, these microscopic bugs are still in the air.
Not all contaminates are created the same and neither are air purifiers. The most effective means of improving indoor air quality (IAQ) is a whole-home purifier that is installed as part of an HVAC system. Aprilaire's purifiers trap and kill 98 percent of all airborne contaminants down to 1 micron, including the tiny – but unwelcome – household guests known as dust mites. With a whole-home purifier, you're family is also protected against mold, fungi, pollen, spores and other particulates.
Dust Mites Don't Hang Out in Just One Room
Unlike portable units, Aprilaire's whole-home purifiers protect every room in the house and keep pollution levels much lower. Dust mites and viruses constantly move and float around, so portable purifiers that only work in the immediate vicinity are not up to the task in most single-family residences. To stand a fighting chance against dust mites, families need the whole-home solution.
For more information on whole-home air purification, total control of IAQ and information on removing dust mites, visit Aprilaire.com. Also, find Aprilaire on Facebook at Facebook/Aprilaire.
About Aprilaire:
Aprilaire has been a brand leader in IAQ for more than 60 years, delivering a wide range of whole-home systems that improve comfort, health and energy efficiency. Aprilaire brand products are sold through and installed by HVAC contractors across the United States and Canada. Visit Aprilaire.com to learn more about whole-home air cleaners and total comfort solutions to purity, humidity, freshness and temperature.