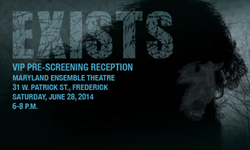 Frederick, MD (PRWEB) June 09, 2014
Hollywood meets Frederick at this year's Frederick Film Festival. Famed director of found footage classic "The Blair Witch Project" Eduardo Sanchez and the Frederick Film Festival invite you to an exclusive, VIP reception before the screening of his major motion picture, "Exists." The film will be released worldwide this fall, but film festival goers will screen it far ahead of its official release date.
The VIP reception will be held Saturday, June 28, 2014 from 6-8 p.m. at the Maryland Ensemble Theatre at 31 W. Patrick St., followed immediately by the pre-screening of "Exists" at the Weinberg Center at 20 W. Patrick St. at 8:30 p.m. The catered event includes food and drinks, a meet and greet with the filmmakers, exclusive premiere giveaways, and preferred seating at the Weinberg Center during the screening. All net proceeds will be donated to Frederick Memorial Hospital's Cancer Therapy Center and the JoAnn Garrett Foundation.
"Exists" follows five friends on a camping weekend in the remote woods of Texas as they struggle to survive against the fabled predator Bigfoot. After premiering at SXSW earlier this year, Lionsgate Entertainment immediately acquired the film. It was the first film picked up at the festival, as well as the first and only screening of the film to date. The film has already garnered plenty of attention, receiving the Midnighters Award at SXSW and the Award of the Youth at the Cannes Film Festival.
"I'm very excited to show the film to my hometown crowd," says Sanchez. "They will not be disappointed. You've never seen Bigfoot until you see him in 'Exists.'" Carl Glorioso, director of the Frederick Film Office, says films like "Exists" and "Ping Pong Summer," both from local filmmakers with worldwide releases, make this year's Frederick Film Festival the biggest to date. "Not only do these films put a spotlight on the festival, but they also highlight the caliber of filmmakers and filmmaking in the area," he says.
Only 200 tickets are available for the VIP reception and include the reception party and pre-screening of "Exists" only. Additional Frederick Film Festival events and screenings are not included. To purchase tickets for the VIP reception and film screening, visit http://www.mdtix.com. To purchase tickets to the screening without attending the VIP reception, visit http://www.weinbergcenter.org.
About Haxan Films
Haxan Films is an award-winning entertainment production company responsible for feature films such as "The Blair Witch Project" and "Lovely Molly," as well as television series "FreakyLinks." The company is made up of Eduardo Sanchez and his partner Gregg Hale. To learn more, visit Haxan Films' website at http://www.facebook.com/groups/Haxanfilms/.
About Graphcom, Inc.
Founded in 1982, Graphcom is an award-winning, full-service communications and marketing firm located in Gettysburg, Pa. The organization includes a creative agency (Graphcom Creative), a signage division (Signs by Graphcom), a publishing division (Graphcom Publishing), a digital flags and scenic effects division (Field and Floor FX), as well as a full-service commercial printing division with G7 Master Printer certification. For more information about Graphcom's services, visit http://www.graphcom.com.
# # #