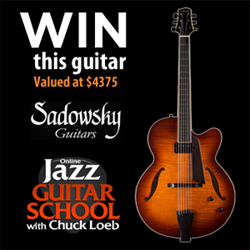 ArtistWorks and Sadowsky Guitars are giving away a Sadowsky LS-17 archtop ($4375 value), the same model used by Chuck Loeb.
Napa, CA (PRWEB) June 10, 2014
To help celebrate the launch of the newest online Video Exchange™ school taught by Grammy® Award-nominated jazz guitarist Chuck Loeb, ArtistWorks and Sadowsky Guitars are giving away a Sadowsky LS-17 archtop ($4375 value), the same model used by Chuck Loeb. Sadowsky archtops are a known standard for performing jazz musicians. The LS-17 features a 17" body with a 2-¾"-body depth and a 25.5" scale length. The 5-ply maple laminate construction provides feedback resistance and stability and has proven to be a roadworthy instrument for touring musicians.
ArtistWorks.com is a first-of-its-kind online music and art campus that provides members with personalized interaction with world-acclaimed musicians and artists. These unique online learning communities have already helped thousands of beginning and seasoned members from nearly 100 countries improve their skills.
Membership to Chuck Loeb's Online Jazz Improv School includes unlimited access to hundreds of pre-recorded lessons that simplify jazz improvisation and complicated modes and scales. Additionally, via ArtistWorks' patent-pending Video Exchange™ Feedback Platform, members can submit practice videos to Loeb using a standard Smartphone, tablet or computer. Chuck Loeb then reviews the submissions and provides a precise, and efficient individualized video response containing personalized feedback and additional instruction. Video Exchanges are paired together on the site and made available for all members to learn from, creating a constantly growing, ever-evolving virtual master class online.
Chuck Loeb, whose career has spanned more than four decades and who plays guitar in the contemporary jazz group Fourplay, states, "I love teaching, but because of my travel and recording schedules, it's nearly impossible to schedule traditional master classes and clinics," said Loeb. "When fellow ArtistWorks instructors Nathan East and John Patitucci approached me about this incredible program, I was hooked. It's a brilliant way to get busy artists and students together to interact on a regular basis, and in a meaningful and never-before-possible way."
ArtistWorks membership starts as low as $90 for three (3) months.
Click here to see this spectacular Sadowsky guitar, listen to Chuck playing it and enter to win! For more information about the new Online Jazz Guitar School with Chuck Loeb or ArtistWorks, visit ChuckLoebGuitar.com.
About ArtistWorks, Inc.
In 2008, former AOL executive David Butler set out to finally master jazz guitar. With no acceptable teachers in his area, he built a revolutionary online system to enable anyone to get direct feedback from a master teacher anywhere in the world. Founded by David and former financial executive Patricia Butler, ArtistWorks, Inc. is the leader in a new generation of online learning platforms. This "next generation" Video Exchange™ Feedback Platform enables world renowned artists and musicians to "teach the world" by presenting their artistic legacy in the form of HD video lessons and direct feedback to subscribing students. Utilizing simple web cams, smartphones, tablets or video cameras, students are able to submit practice videos and get individualized video feedback and guidance from their teaching artists - creating a constantly evolving two-way, online learning experience.
ArtistWorks currently offers schools from such world-class artists as: Paul Gilbert (rock guitar lessons), Martin Taylor (fingerstyle guitar lessons), Chuck Loeb (jazz guitar lessons), Jason Vieaux (classical guitar lessons), Nathan East (electric bass lessons), John Patitucci (jazz bass lessons), Andreas Oberg (gypsy and jazz guitar lessons), Jeannie Deva (singing lessons), Nathan Cole (violin lessons), Jeffrey Khaner (flute lessons), William Caballero (French horn lessons), David Bilger (trumpet lessons), Ricardo Morales (clarinet lessons), Howard Levy (harmonica lessons), DJ Qbert (DJ lessons), Christie Peery (piano lessons), Luis Conte (percussion lessons), as well as the ArtistWorks Academy of Bluegrass with Tony Trischka (banjo lessons), Missy Raines (double bass lessons), Bryan Sutton (flatpick guitar lessons), Andy Hall (Dobro lessons), Mike Marshall (mandolin lessons), Darol Anger (fiddle lessons), Free Acoustic Guitar Lessons with Scott Law, and Justin BUA (art lessons). For more information, visit ArtistWorks.com.