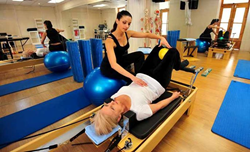 This exercise works the triceps, rhomboids and other muscles involved in the skeleton's upper back posture.
(PRWEB) June 12, 2014
The former professional dancer, who runs five exercise studios in Adelaide offers Allegro Reformer and Barre classes as well as Pilates. In her latest post titled How to Strengthen the Upper Body and Tone the Arms: Pilates Adelaide Upper Back Exercise she provides an exercise to help with pain in the upper back.
"I would say that the one area the majority of people who come to see me need to work on is the upper back between the shoulder blades," says Gollan.
"The reason for such high numbers of people with pain and discomfort in their upper back is, of course, down to all that sitting at a desk and typing on a computer keyboard for hours at a time. Not surprisingly the upper body tightens up as the working day goes on, causing increasing discomfort."
She goes on to demonstrate an exercise to loosen up the upper back in the accompanying video to the article and which is titled Pilates Adelaide Upper Back Exercise. The exercise focuses on working through the body's Rhomboids area, using the lats and opening up through the chest.
The exercise, which is called Chariots, can either be carried out sitting with the bottom on the knees or simply kneeling and sitting upright. After exhaling the hands should be pulled just past the hips. An inhalation brings the participant back to the start position.
During the exercise it is important to ensure that the shoulder blades are squeezed together. The standard number of reps for this exercise is around 15. The palms should then be rotated to face in to each and another 15 reps achieved.
Gollan says the video is aimed at providing would-be participants with a good idea of what is involved in an Allegro Reformer class (the name refers to the machine on which the exercise routine depends).
In the video she goes on to demonstrate another position – this time rotating the palms to the front of the body. The movement is the same but the rotation of the arms will work slighting different muscle groups and lead to toning there too. In all, the exercise works the Triceps, Rhomboids and other muscles involved in the skeleton's upper back posture.
Gollan adds: "The farther you can push back, the better the exercise will work. Just make sure that you maintain a nice posture throughout your spine while remembering to relax the shoulder muscles too."
Those interested in learning more about Allegro Reformer classes, Barre or mat-based Pilates can take a browse through the Inner Strength Pilates company website. The site includes a timetable where individuals can book a class online and secure their place quickly. A live chat feature on the site also allows those interested in attending to chat with staff who will attempt to answer any questions beforehand.