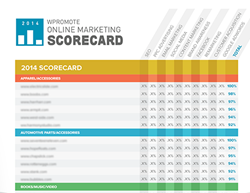 You don't need to be a retail giant to be a successful digital marketer, but a holistic view of the customer experience differentiated the winners and losers.
El Segundo, Calif. (PRWEB) June 10, 2014
While retail giants such as Costco and Netflix landed top spots on the Internet Retailer 500 list this year, they are listed among the 124 brands that received failing grades in the 2014 Wpromote Online Marketing Scorecard.
The digital marketing firm scored the top 500 retailers on their online strategies and found that 25 percent received a failing grade, while less than 2 percent received an "A." The largest percentage of retailers received a "D," and the remaining 37 percent received a "B" or "C" grade.
Of the Internet Retailer Top 10, only one retailer, Amazon, also landed a spot on Wpromote's top 10 list of digital marketers, while top 50 retailer Shutterfly was No. 1 on the Wpromote list. These grades show that even top brands don't necessarily make the best digital marketers.
"Digital marketing has leveled the playing field," said Mike Mothner, founder and CEO of Wpromote. "You don't need to be a retail giant to be a successful digital marketer, but a holistic view of the customer experience differentiated the winners and losers. Retailers can't provide a seamless e-commerce experience without organic traffic, for example, and still be successful."
Wpromote graded retailers on seven categories: paid search, SEO, social media, ecommerce strategy, email marketing, mobile capabilities and company blogs. Those that did not have a presence on social media and ignored the tenants of a solid PPC program fared the worst:

Paid search: Of the 124 failing retailers, 34 received a cumulative zero in the PPC category, indicating that they were not engaged in paid search. None of the 124 retailers scored higher than a 69 percent in this space. The average score for retailers overall was 43 percent, indicating that most top retailers struggle with PPC.
SEO: While the average SEO score among all retailers was a 60, 80 percent of falling retailers received a failing grade in this area. Only four of this group managed a "C" grade, mainly due to poor MozRank and site loading speed.
Social media: Only two of the 124 received a passing grade in this subject. Two factors were primarily to blame for these scores: lack of presence on Google+ and Pinterest and a low number of followers on Facebook and Twitter compared to other retailers in the same category. Passing retailers were more likely to have a social presence though not necessarily a strong one.
E-commerce: Of the failing retailers, only two offered free returns, four offered price matching and 40 offered free shipping with minimum purchase. Only 20 percent of these retailers offered unconditional free shipping, compared to one-third of IR500 retailers overall.
Email marketing: Few retailers in the failing group sent emails to new subscribers or about abandoned shopping carts, both of which are considered standard practice by retailers that received passing grades. Only 10 percent of failing retailers used pop-ups on their websites encouraging new subscribers to sign up, compared to 29 percent of retailers overall.
Blog: The vast majority of failing retailers received zeroes in this category for not having a blog. Of the IR500 overall, 54 percent have a blog.
Mobile: The one bright spot for the bottom 124 retailers was mobile marketing. These retailers received better grades for the mobile experience than in any other category. Just less than half had mobile optimized sites, and 21 percent had an app. By comparison, 72 percent and 42 percent of IR500 retailers had an optimized website and an app, respectively.
"Some online retailers like Costco and Netflix that didn't score highly might still be doing well from a business perspective since they have advantages like economics of scale or unique value propositions," explained Mothner. "To maintain their position, however, they need to step up their game and realize that their dominance alone doesn't ensure a great customer experience or continued success."
Scores were weighted, with PPC and SEO each counting toward 25 percent of the overall score. Social media, blogging, email marketing, mobile and e-commerce counted for 10 percent each. To see the individual scorecards of each retailer and industry or to find information on methodology, visit http://www.wpromote.com.
About Wpromote
Wpromote is an award-winning online marketing firm headquartered in El Segundo, Calif. Founded in 2001 by Michael Mothner, Wpromote has helped hundreds of clients from Fortune 500 companies to small startups grow their businesses online through search marketing, mobile and social. Integrated search engine marketing clients include Bayer HealthCare, Toyota, Verizon, Scion, TOMS, Dickies, Cleveland Golf, TUMI, Zenni Optical, and QlikView. With unmatched experience in search marketing and an unrivaled dedication to our clients' results, Wpromote helps companies small and large act and move like large enterprises. For more information on Wpromote and its services, visit http://www.Wpromote.com.