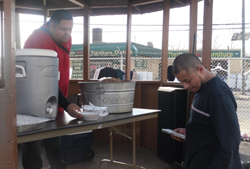 An LED message sign would help us to fulfill our mission.
Camden, NJ (PRWEB) June 12, 2014
SignVine announced today a new online fundraising campaign for Pentecostal La Nueva Jerusalen in Camden, NJ, who is raising money for an outdoor LED message sign. Mike Prongue, Campaign Director for SignVine, urged all those interesting in supporting this campaign to visit this unique webpage: SignVine.org/newjerusalem. Watch their touching video, read their story, see pictures of their outreach, and donate. If everyone gives a little and shares this campaign, then their big goal of a new message sign will be realized.
"An LED message sign would help us to fulfill our mission by displaying the days of church service as well as the days in which we will be servicing the needy with food and clothing," said Melissa Marquez, the Gardener who coordinates the crowdfunding campaign for the church.
Pentecostal La Nueva Jerusalen, the New Jerusalem, is a very community-oriented, very active, very deserving, nonprofit organization. Their mission is to feed the hungry and help the poor with clothing and support. Camden, NJ is a challenging city, with very well-known and publicized problems of drugs, crime, prostitution. Everyday, the staff of Nueva Jerusalen face the challenges of the street, but despite a vigilant effort, many still do not get the message about what the church can do to help. An LED display can (literally) shed light and inform residents about what services are available and when.
"Our mission is to improve and impact lives with the gospel and well as helping our community. Most people have given up on Camden, but we have not," stated Marquez, "Our targets are usually the homeless, prostitutes, and drug addicts, which unfortunately run rampant in the city of Camden."
SignVine.org is a specialized crowdfunding website that provides churches, civic groups, and other deserving nonprofit organizations their own unique webpage for fundraising online from the local and national community towards the purchase of an outdoor message sign. They can tell their story or cause, show pictures and inspirational videos, and share updates to their online community.
"The level of passion and sincerity exuded by Pastor Daniel Roman and the Campaign Gardener Melissa Marquez made their organization a perfect fit for SignVine's mission. We are proud that we can help them with their campaign," Prongue said, "Plus with their dedication and hard work, success will be almost assured that they hit their goal of $30,000!"
SignVine is a nonprofit organization started by message sign industry professionals with the mission to empower nonprofits by helping them raise money towards an outdoor message sign for outreach in their community. For more information on SignVine, please visit their Website at http://www.signvine.org or call toll-free 844-807-9720, to speak with Mike.