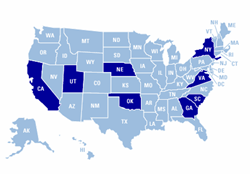 Current prices for a growing number of hospitals and surgery centers across the country
American Fork, UT (PRWEB) June 10, 2014
Want to know what it would cost to have that surgery performed, either for yourself or for one of your employees? Current prices for a growing number of hospitals and surgery centers across the country can be found at PricingHealthcare.com.
Pricing Healthcare began hosting facility price lists earlier this year, and is expanding into a growing number of states, with 3 new states added already this month. Today's announcement adds prices on surgeries of all kinds (as well as colonoscopy and endoscopy prices for St. George) in five new locations.
1. Orthopedic Surgery Center of Orange County
(Los Angeles, CA)
OSCOC is a subsidiary of Hoag Orthopedic Institute, which is ranked in the top 50 nationally by U.S. News & World Report in orthopedic care, and is #1 in orthopedic procedure volume in California.
2. Monticello Community Surgery Center
(Charlottesville, VA)
Monticello Community is in its 11th year of operations, and recently moved to a new, state-of-the-art facility in central Virginia. The center received the Award for OR Excellence, Best in Practice for Infection Control, by The Outpatient Surgery Journal in 2011.
3. Nebraska Orthopaedic Hospital
(Omaha, NE)
Nebraska Orthopaedic is also in its 11th year, and has as part of its staff a team of physicians who are experts in sports medicine. The hospital has been the recipient of continued national recognition for maintaining low costs and high quality.
4. The Surgery Centers of ENT Institute
(Atlanta, GA)
The ENT Institute is the largest ear, nose and throat practice in the southeastern United States. The institute's growth has doubled every 18 months under the vision of entrepreneur Dr. Jeffrey Gallups. The Milton Hall Surgical Center opened in 1997, and a second surgery center in the Atlanta area opened this year.
5. St. George Surgical Center
(St. George, UT)
SGSC is a state-of-the-art, physician-owned facility that has provided high quality care for over 25 years. Patients come from surrounding areas such as Arizona, Nevada, Colorado and California to take advantage of the low-cost high-quality care that the center provides.
Each facility offers bundled prices (including the facility fee, physician fee, and ansthesiologist fee) on elective, cosmetic, and all other surgeries for direct-pay patients. Some prices also include additional services, as is explained on each facility's dedicated page listing.
Pricing Healthcare is a completely open, independent, online marketplace for direct-pay healthcare. Pricing information on the Pricing Healthcare site is current, searchable, and free to access from anywhere in the world on hundreds of procedures across the United States. On the site, healthcare providers can promote themselves, their brand, their services and prices, and anything else they want patients to know about. The site offers facilities unlimited dedicated pages to list their services and procedures, free of advertisements, with their contact information clearly visible.