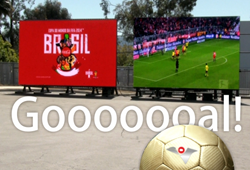 'The best fans in the world deserve the best LED screens in the world.' - Paul Martin, Vantage LED
Ontario, CA (PRWEB) June 11, 2014
"Goooooooooal" is the topic this month for Vantage LED, US manufacturer of LED signs, as they send their teams to Brazil to help set up massive LED displays for the fanatical fans outside of the world cup stadiums. They are providing several billboard-sized LED screens for the Fan Fest events throughout the cities in Brazil.
"The best fans in the world deserve the best LED screens in the world." stated Paul Martin, Chief Marketing Director of Vantage LED.
Last year, Vantage LED was chosen from a list of several top manufacturers to represent the soccer games in Brazil. A team of officials came out to their factory in California to check out their facilities and witness a full-size demonstration of Vantage LED's full color Phoenix™ series displays. The team was so impressed that Vantage LED was awarded the contract.
As they cope with the summer heat and the unique cuisine, the Vantage Brazil team will be onsite for about 10 days to help construct and train the local crew on how to operate the LED signs.
"After initial fabrication and testing of the displays in our factory, we took a few weeks to organize, label, and create the displays for ease of construction and breakdown for the local crew. We know what sign companies face in the field, therefore we're always in the habit of preparing our equipment to accommodate them for faster and proper installation'" stated Kyle Carnes, Vantage Brazil Team.
The soccer games start June 12th and the fans are indeed ready for a month of sheer fanatical mayhem, and what better way to celebrate than with great food, great friends, and the greatest game on billboard-sized LED screens.
About Vantage LED:
In an industry becoming stagnant, Vantage LED, a Premier U.S. Manufacturer of Innovative Outdoor LED Displays, is forging ahead providing revolutionary digital solutions with innovative hardware and intuitive software featuring professional content creation with internet & mobile access through the SM Infinity™ platform, all backed by real human support, strong resources, and smart business. Vantage LED invites you to discover the simplicity they bring to the LED industry.