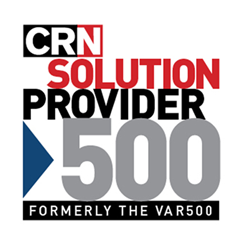 Centennial, CO (PRWEB) June 11, 2014
Accucode, today announced it has been named to the 2014 Solution Provider 500 (SP500) list by The Channel Company's CRN. The list ranks the top revenue-generating technology integrators in the U.S. and Canada whose forward-thinking approach to the channel has helped them evolve and thrive in today's cloud and services-driven IT era. The list spans eight categories from hardware and software sales, to managed IT services. Accucode placed #478 in the annual ranking.
Revenue size is determined by the amount of annual products and services sold over the course of 2013. Companies with no public documentation were required to submit a notarized affidavit attesting to their 2013 revenue.
"Accucode is proud to be listed among the top 500 solution providers. We work hard to be an innovative and forward thinking technology partner," said Kevin Price, Founder and CEO of Accucode. "It's very gratifying for our market leadership to be recognized by a respected trade publication such as CRN."
"The annual Solution Provider 500 represents those companies that truly understand the needs of customers today as the IT landscape evolves," said Robert Faletra, CEO, The Channel Company. "With so many options, this list has become an invaluable resource for vendors working hard to navigate the solution provider community and identify the best partner for their business. We congratulate the featured solution providers and look forward to covering their continued success."
A sampling of the 2014 SP500 list is featured in the June issue of CRN Magazine and is featured online at http://www.crn.com and in the CRN Tech News app, available for iPad and Windows 8.
About Accucode, Inc.
Accucode is a software developer and solutions integrator specializing in the application of mobile computing, wireless infrastructure, and automated data collection technologies. Accucode pioneered the Hardware-as-a-Service model under which fully managed tablets, software, and other technologies can be delivered at a fixed subscription rate, removing capital barriers and mitigating maintenance and other life-cycle risks for customers. Accucode provides cost-effective solutions for warehousing, retail, manufacturing, transportation, healthcare, and education, servicing high-profile customers such as Kroger, Discount Tire, MillerCoors, Johns Manville, Samsonite, DHL, British Airways, Frontier Airlines, and many more. Accucode has built a reputation of excellence by providing its clients with turnkey, best-of-breed solutions backed by the company's proven expertise and world-class service.
Accucode was recognized by Inc. Magazine as one of the fastest growing privately held companies in the US by being included in the Inc500. Additionally, Accucode was included in the Inc5000 seven times and Deloitte's Technology Fast 50 five times.
About The Channel Company
The Channel Company is the channel community's trusted authority for growth and innovation, with established brands including CRN, XChange Events, IPED, and SharedVue. For more than three decades, we have leveraged our proven and leading-edge platforms to deliver prescriptive sales and marketing solutions for the technology channel. The Channel Company provides Communication, Recruitment, Engagement, Enablement, Demand Generation and Intelligence services to drive technology partnerships. Learn more at http://www.thechannelcompany.com.