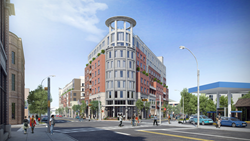 "We're thrilled that The MC will join premier hotels including The Algonquin in NYC as part of Marriott International's Autograph Collection," said Brian M. Stolar, CEO, The Pinnacle Companies.
Montclair, NJ (PRWEB) June 10, 2014
The Pinnacle Companies unveiled plans today for The MC, a $35 million, 120,000 square foot, eight-story full service boutique hotel at Bloomfield Avenue and Orange Road in downtown Montclair. When opened, the 148-room hotel will become part of the Autograph Collection, Marriott International's exclusive portfolio of independent hotels.
"We're thrilled that The MC will join premier hotels including the Algonquin in New York City as part of the Autograph Collection," said Brian M. Stolar, president and CEO, The Pinnacle Companies, developer of the Montclair Center Gateway Redevelopment Plan known as CentroVerde, which includes the hotel. "The MC will be the first full-service hotel to open in Montclair since the Hotel Montclair, which closed in 1938, and will provide a new gathering spot for the community."
The MC's amenities will include a farm-to-table restaurant, a rooftop bar with city views and lobby library. Hotel and restaurant guests will be offered front-door valet parking from the hotel's covered porte-cochere entryway to a new six-story full-service parking garage with solar power and an automated parking system. An outdoor plaza connected to a two-story round atrium with 30-foot-high glass walls will be open year-round to the public.
"The hotel's original, one-of-a-kind design – complete with an urban rooftop amenity that engages the skyline – will compliment Montclair's organic street life," said Chris Lessard, president and CEO, Lessard Design, the project's master development architect. "The tremendous public spaces surrounding the base of the project are a culmination of the Township's master plan to create a new gateway to downtown Montclair."
The hotel's art program, run in partnership with the Montclair Township, will feature exhibitions throughout the hotel lobby and public areas, including a sculpture on the public plaza. The MC will also collaborate with local non-profit groups to host various public events throughout the year.
"Our design strategy celebrates Montclair's distinctive culture, diversity and artistry – a perfect fit with the Autograph Collection's unique, one-of-a-kind properties," said David Ashen, principal of Dash Design, the hotel's interior design and branding firm. "With a casual sense of luxury and an eclectic vibe, the property aims to be a destination point for the community with a range of social gathering spots."
Hotel guests and event participants can travel to Montclair's six train stations on Ultra Low Emission Vehicle shuttles, and participate in a new bike and car share program. For secure bicycle storage at its train stations, Montclair is planning new bike depots, and was recently awarded a $20,000 grant by Sustainable Jersey to build the first one at Bay Street station.
"When the bike share program is implemented here in Montclair, it will be one of the first suburban systems in the state. We envision that this implementation will become an example for other NJ Transit station towns, and it will also provide a stepping stone to more bicycle use for many," said Cyndi Steiner, executive director of the New Jersey Bike & Walk Coalition.
Groundbreaking for The MC is anticipated during the fourth quarter of 2014 and construction will take approximately 15 months. The hotel is expected to open in early 2016.
"The addition of this hotel property to downtown Montclair complements the vision for our mixed-use property, Valley & Bloom, and adds a vital amenity for the community at large," said James Driscoll, senior vice president of development for LCOR, co-developer of Valley & Bloom, the first phase of the Montclair Center Gateway Redevelopment Plan.
The MC will also include 13,000 square feet of corporate offices, conference and meeting space.
An affluent suburb of New York City, Montclair is located approximately ten miles northwest of Newark International Airport and 13 miles west of Manhattan.
About The Pinnacle Companies LLC
The Pinnacle Companies, LLC worked with the Township of Montclair to create the Montclair Center Gateway Redevelopment Plan, known as CentroVerde, which includes The MC hotel and the mixed-use Valley & Bloom project. A privately held regional real estate development firm, Pinnacle is based in Montclair, NJ, where the firm has developed the Siena mixed-use building on the site of the former Hahne & Co. department store. Other notable Pinnacle projects in New Jersey include Maxwell Place, a 1,000,000 square foot mixed-use project on the site of the former Maxwell House coffee factory in Hoboken, developed as a joint venture with Toll Brothers, and Crystal Pointe in Jersey City, a 41-story, 269-unit luxury condominium tower in a joint venture with Fisher Development.
About the Montclair Center Gateway Redevelopment Plan
The Montclair Center Gateway Redevelopment Plan is a sustainable mixed-use development known as CentroVerde. The development is located on the site of the former DCH Jaguar and Volvo car dealerships, Ferrara Auto Body and Thai Chef restaurant. A gateway to Montclair's central business district, the site is bounded by Bloomfield Avenue to the north and Valley and Orange Roads to the east and west.
The first phase, being developed by Pinnacle and co-developer, LCOR, has been named "Valley & Bloom." As the largest residential and commercial development in Montclair's history, the development will feature two six-story multi-use buildings with 258 residential units, 24,500 square feet of office space and 25,500 square feet of retail space. Phase two of the Plan includes The MC hotel and surrounding public spaces.
About Autograph Collection
The Autograph Collection is an evolving ensemble of strikingly independent hotels. Exactly like nothing else, each destination has been selected for its quality, bold originality, rich character and uncommon details. From near to far, iconic to historic, the result is an array of properties that is nothing less than unique, nothing short of collectively exceptional. For more information please visit http://www.autographhotels.com, or explore our social media channels to learn more about championing the independent spirit:
Facebook: http://www.facebook.com/AutographCollection
Twitter: http://www.twitter.com/Autograph
Tumblr: http://autographcollectionhotels.tumblr.com
About Marriott International
Visit Marriott International, Inc. for company information. For more information or reservations, please visit our web site at http://www.marriott.com, and for the latest company news, visit http://www.marriottnewscenter.com.