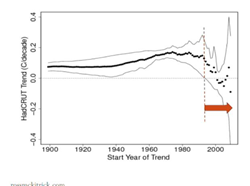 We've had 16+ years of no global warming, despite a rise in CO2. ..The models have likely exaggerated the sensitivity of Greenhouse gases, especially carbon dioxide"
Calgary, Alberta, Canada (PRWEB) June 10, 2014
Canadian newspapers like the June 6th, 2014 edition of the Montreal Gazette are filled with headlines of Greenpeace claiming a double standard over the fact that a year ago their proposed billboard was not accepted for placement by an outdoor advertising firm, while today the Friends of Science digital climate change billboard is sharing the message that "The sun is the main driver of climate change. Not you. Not CO2." featured against a backdrop of a massive solar flare and a tiny 'blue dot' earth in proportion against the void of outer space.
"First of all, our message is backed up by peer-reviewed science. Secondly, we're getting an excellent response from around the world," says Len Maier, president and retired P. Eng. who runs a tree farm.
Maier notes that social media has picked up the billboard; it was featured on Europe's 2014 Best Weblog "Tallbloke Talkshop" back in March 2014 to positive responses, under the title "Friends of Science billboard seems sensible."
"We've got requests coming in from the UK and Australia for bumper stickers of the board," says Maier. "Australia dumped its carbon tax and has recently cut funding for climate change research by billions of dollars."
According to the May 14, 2014 edition of the Sydney Morning Herald, Australia's climate change-related program funding will fall "from $5.75 billion this fiscal year to $1.25 billion by 2014-15 and to $500 million by 2017-18. The government will spend more on its national blood program than climate change on all but the first of those four years."
Maier points out that: "We support the Greenpeace quest to find a billboard venue for its message, we dissent on their climate change views, and we question their use of dangerous stunts. Ideally we are hoping to stimulate civil public debate on climate change."
Maier points to the province of Ontario where Greenpeace and other ENGO charities advocated for a "Renewable is Doable" plan upon which the Ontario government modelled much of the Green Energy Act. This has economically devastated that province as reported by the Financial Post May 1, 2013.
Dr. Ross McKitrick, Professor of Economics, University of Guelph, presented evidence of the large and growing discrepancy between temperature measurements and the climate model projections at the Friends of Science 11th annual luncheon May 15, 2014. He showed that 97% of the climate model runs predicted too much global warming since 1997, with the average prediction being more than four times the observed level."
Recently Greenpeace Canada sent threatening letters to a number of Canadian corporations and insurance companies, claiming directors and CEOs would face 'climate crimes' as reported in the Financial Post May 28, 2014.
"In our opinion, this kind of tactic has no place in civil society," says Maier. "As Judith Curry testified to the US Senate on Jan. 16, 2014, we've had 16+ years of no global warming, despite a rise in CO2. This proves that natural factors not considered in climate models have more than negated the AGW effect. The models have likely exaggerated the sensitivity factor of greenhouse gases, especially carbon dioxide."
Friends of Science say that a recent surge in memberships afforded the funds for the small campaign. Membership forms are online.
About
Friends of Science have spent a decade reviewing a broad spectrum of literature on climate change and have concluded the sun is the main driver of climate change, not carbon dioxide (CO2). The core group of the Friends of Science is made up of retired earth and atmospheric scientists.
Contact:
Friends of Science Society
P.O. Box 23167, Mission P.O.
Calgary, Alberta
Canada T2S 3B1
Toll-free Telephone: 1-888-789-9597
Web: friendsofscience.org
E-mail: contact(at)friendsofscience.org