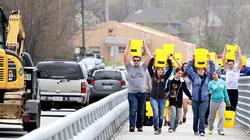 I was inspired. I was called to serve. Because I have the ability, I had a responsibility to do something.
Indianapolis, IN (PRWEB) June 10, 2014
Last summer, Paul Thieme learned about the power of one. A week of hard work at the National FFA Organization's Washington Leadership Conference helped him compose a better picture of who he is, what he's good at and how he could help others.
During that week, he researched causes that might possibly need his skills, talents and passion.
Thieme discovered Kager, Kenya. There, safe water is miles away from the village of 3,000. The job of obtaining even a questionable state of safe water is that of women and their children, who up to three times a day – every day – walk as far as four miles to gather water.
Then he found Healing Hands International, an organization that raises money through walkathons to cover the costs of drilling community wells in Kenya and a host of other African nations.
"I was inspired. I was called to serve," said Thieme, a senior FFA member at Hamilton Southeastern High School in central Indiana. "Because I have the ability, I had a responsibility to do something."
He organized his own walkathon and called on his FFA chapter and fellow students to join the cause. Toward the end of the school year, dozens of students and teachers walked nearly two miles, filled five-gallon buckets with reservoir water and walked back to school with the buckets on their heads.
"Our goal was to raise money needed to help build a safe-water well for the Kager people and inspire other students to branch out and create service projects of their own," he said. "There are people in our country and in our world who don't have many of the things we take for granted."
The event raised $7,000 for Walk4Water.
"When Paul came back from the conference, he was extremely excited," said Rich Bailey, Thieme's FFA advisor. "He didn't just talk about his experience. He did something with it."
That's exactly the way 2,400 students from throughout the country will return home from the Washington Leadership Conference, under way now through July 27.
FFA members will define their strengths, set personal goals, learn crucial leadership skills and ultimately devise a community-service initiative that will help people in their local communities.
During their time in D.C., FFA members will also tour the Washington Monument, World War II Memorial, National Mall, Arlington National Cemetery, Newseum and the U.S. Capitol. Students also arrange meetings with members of Congress. Many agricultural education teachers also attend the conference to learn new ways to motivate students and maximize their FFA chapters' work in their communities.
Each of the week-long sessions of the conference ends with FFA members volunteering their entire day to community service. This year, FFA members will pack 400,000 meals of chicken, rice and macaroni and cheese for distribution in the greater D.C. area. Last year, FFA members packed school supplies for more than 400 students in the D.C. area.
The 2014 National FFA Organization Washington Leadership Conference is sponsored as a special project of the National FFA Foundation by title sponsors Monsanto and CSX and weekly sponsors TransCanada, Crop Production Services and Farm Credit. Each week's Day of Service is supported by Land O'Lakes, RAM Truck, Elanco, Nationwide Insurance Foundation and Tractor Supply Co.
"The National FFA Organization and Monsanto have a shared goal of supporting future leaders of the agriculture industry," said Elizabeth Vancil, Monsanto's customer advocacy outreach manager. "Students will learn valuable skills to lead their FFA chapters in successful community service activities and prosper in agricultural careers."
For more, visit http://www.FFA.org/WLC. Follow the conference on Twitter at #WLC2014.
"The Washington Leadership Conference underscores the reputable values of leadership, civic engagement and community service shared by FFA students and CSX employees," said Tori Kaplan, CSX AVP of corporate social responsibility. "We are honored to do our part to develop leaders of tomorrow."
The National FFA Organization provides leadership, personal growth and career success training through agricultural education to 579,678 student members in grades seven through 12 who belong to one of 7,570 local FFA chapters throughout the U.S., Puerto Rico and the Virgin Islands.