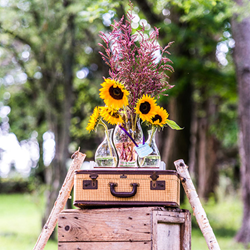 Dunmore, Alberta (PRWEB) June 11, 2014
As the summer heats up and warm weather beckons to all, it's no wonder that brides and grooms-to-be that get married over the summer months are opting more and more for outdoor ceremonies. From forest settings to backyard celebrations, the outdoors are certainly the place to be when the weather finally allows for it. And, while nature itself offers a wide variety of décor au naturel, there is most certainly a need to bring a few man-made wonders in to help set the right scene. Rising to meet this seasonal need, Weddingstar offers inspiration and products to help any couple create the outdoor wedding of their dreams.
See Weddingstar's best inspirations and products for a flawless outdoor ceremony here: http://blog.weddingstar.com/wedding-planning-essentials-outdoor-ceremony-how-to/
The Keys to a Perfect Outdoor Ceremony
While a couples' distinct style, color scheme, theme and religions all come into play when deciding on the perfect ceremony elements, Weddingstar has narrowed down 5 major keys for every couple to consider. Easy to follow and thoroughly researched, Weddingstar offers the following 5 tips to make planning an outdoor wedding ceremony a breeze:
1. Frame the Area: The sky is literally the limit when holding an outdoor ceremony, so making it as cozy and intimate experience can be tricky. Weddingstar's solution to avoid this is to use common ceremonial elements like a Personalized Aisle Runner and neat rows of seating to create a comfy and inviting atmosphere while still enjoying nature's beauty.
2. Less is More: Taken to heart, this motto is all about adding only a few key pieces to the décor to accent the space, not overwhelm it.
3. Unique and Chic: An outdoor venue is already out of the ordinary – so continue on that path by making the décor count with other extraordinary elements to compliment the space, like a stunning alternative ring pillow.
4. Comfort First: An outdoor ceremony means lots of light, sun and heat. Make guests comfortable with extras on hand like bug spray, sunglasses, parasols and fans so everyone can enjoy and cherish your walk down the aisle.
5. Plan B: It's not fun to hear, but a Plan B is an absolute must when planning an outdoor ceremony. With rain, wind and heat waves all possible in summer, an indoor location is a must have as a just in case backup.
Paired alongside a couples other musts, these 5 keys are an easy way to ensure every detail is planned, covered and prepared for. To see more ideas and inspirations for a unique outdoor wedding ceremony, visit: http://blog.weddingstar.com/wedding-planning-essentials-outdoor-ceremony-how-to/
About Weddingstar
Weddingstar Inc. is one of the world's leading designers, manufacturers and retailers of wedding decorations and accessories. Dedicated to providing quality service to brides around the globe, Weddingstar ships to over 100 countries worldwide with distribution points in Europe, North America, Argentina, Australia and Russia. Featuring an ever-expanding selection of bridal accessories with over 3,000 different product offerings, Weddingstar is a one stop destination for every wedding need. With 30 years of experience in the wedding industry and having received numerous business awards, Weddingstar has earned a reputation as the source for 'Putting the Wow into Weddings.' For more information please visit http://www.weddingstar.com.