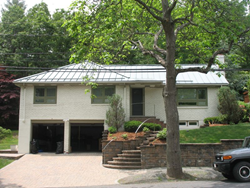 When we put a metal roof on, it's done right. It's designed and installed to last a lifetime.
Stow, MA (PRWEB) June 12, 2014
Homeowners all over southern New England are upgrading to beautiful, sustainable, problem-free, energy star rated aluminum metal roofs. It's no different in Brookline, MA where Classic Metal Roofs, LLC was the choice of the homeowners who decided to give their home a roof that would eliminate all their roofing problems and go green at the same time.
What was unusual about the process was that when Classic went to pull the building permit, they were told that "this was the first standing seam metal roof in Brookline to be installed on the entire house;" there were many instances of metal being put on a section of the roof or a bay window or even entrances, but not on the whole roof.
"During the installation, we had a lot of folks stop by and ask questions about our metal roofing systems," commented Tom Mlodzinski, the foreman on the crew. "The interest level was very high in the community, because it was the first time many homeowners had seen that style of roof."
As neighbors visited the construction, the crew at Classic Metal Roofs were able to answer questions and direct them back to the company website for more information. According to Mlodzinski, the company is one of only a few that uses their own crews to install metal roofs.
"When we put a metal roof on, it's done right. It's designed and installed to last a lifetime," stated Mike Gonet, Sr. Partner of the firm. "It's the best roof under the sun."
About Classic Metal Roofs, LLC:
Classic Metal Roofs, LLC is considered one of the premier installers of metal roofing in New England. They specialize in the installation of lifetime residential metal roofing systems for people who want energy star, environmental, sustainable, or long term solutions for their roofing needs. They believe their metal roofs are 'The Best Roofs under the Sun' and are in business to provide their customers with a worry-free roofing future. Their service are includes Massachusetts, Connecticut, Rhode Island, and Southern New Hampshire. Classic Metal Roofs, LLC works with contractors, architects, and homeowners.