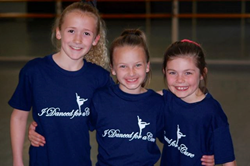 It's about studying each dancer and understanding his or her needs in order to give them the best foundation for a career in dance!
Newtown, PA (PRWEB) June 13, 2014
For weeks, the Debra Sparks Dance Works family of dancers spread the word and solicited contributions from friends, neighbors, and relatives, all in the name of supporting cancer research. In memory of Ms. Deb's mother, Phyllis Sparks, Dance for a Cure raised over $2,200 in one day, in addition to the tens of thousands of dollars the dance studio has raised for cancer over the years. Open to the public, the fundraiser attracted teens from all over the tri-state area.
Garbed in bright red Dance for a Cure T-shirts, the girls danced their hearts out to celebrate the evening's worthy cause. Dance for a Cure is a win/win event: each year, much needed money is raised to support cancer research, and spirited young dancers feel good about themselves because they know they're helping those in need.
About the Studio
When it comes to the best Bucks County dance studio instruction, there's no better mentor than Ms. Debra Sparks. She raises the "barre" with her high standards and nurturing approach to produce the finest of dancers.
Learn More
Throughout the year, Debra Sparks Dance Works hosts a variety of events, including Master classes with guest choreographers from New York, Philadelphia, and Los Angeles. Check out the DSDW dance school video!
Debra Sparks Dance Works offers year-round dance classes, focusing on classical ballet as the primary foundation of training. Classes offered for students of all ages, including dance classes for toddlers (age 2+) to adult:

Acro
Ballet—Classical
Ballet—Contemporary
Ballet—Pointe
Dance Classes for Toddlers
Glee Club
Hip Hop
Jazz
Jazz—Competitive
Jazz—Funk
Jump & Turn
Lyrical
Modern
Musical Theatre
Pilates
Tap
Zumba
For more information about Debra Sparks, the DSDW studio, Master classes, Newtown, Bucks County dance classes, the area's best ballet and dance training, dance classes for toddlers, or for answers to general questions, please call the studio at (215) 579-5678.
Or visit the company's website.
Press release writing by WebSiteText | SEO copywriting by Web Copywriters | Proofreading by The Proofreaders