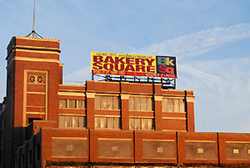 My family and I sincerely thank you for giving us this golden opportunity, which changed our lives, especially my children's. Text can not represent my gratitude at this moment."
New York, NY (PRWEB) June 17, 2014
CanAm Enterprises, LLC ("CanAm") has reached another milestone! On June 5th, 2014, CanAm's 22nd EB-5 project repaid its loan in full and on time, bringing the total number of investors that have received principal repayment in full to 538.
"We are very proud of the stellar track record we have achieved since our journey began in 1987. We remain committed to the business philosophy and core values that served us so well during our first 25 years, and will continue to build on the extraordinary track record we have established," said Tom Rosenfeld, President and CEO of CanAm Enterprises.
The latest project that reached maturity was the Bakery Square Project in the Pennsylvania DCED Regional Center. The proceeds of the EB-5 loan were used to transform the historic Nabisco factory outside of Pittsburgh into an urban 7-story mixed-use building that offers office, retail, dining, and a hotel and fitness center. Industry leaders in the fields of technology and health care – including Google, UPMC Technology Department Center, University of Pittsburgh Science and Technology/Veteran Affairs and Human Engineering Research Laboratories – have relocated to Bakery Square.
"My family and I sincerely thank you for giving us this golden opportunity, which changed our lives, especially my children," said one of the investors in Bakery Square Project, "the text cannot represent my gratitude at this moment." Through the Bakery Square Project, all 61 investor families fulfilled their requirements under the EB-5 Program and received unconditional permanent residency status.
ABOUT EB-5 IMMIGRANT INVESTOR PROGRAM
Administered by the United States Citizenship and Immigration Services (USCIS), the EB-5 Program provides opportunities for qualified foreign nationals to achieve permanent legal residency in the U.S. through an investment in an USCIS-approved project that will generate at least ten full-time jobs in the United States.
ABOUT CANAM ENTERPRISES, LLC
With over 25 years of experience promoting immigration-linked investments in the United States and Canada, CanAm has a long and established track record. Based on a reputation of credibility and trust, CanAm has financed more than 43 project loans and raised over $1.5 billion in EB-5 investment funds. To date, more than 1,200 investors and their families have received their I-829 approvals (3,000+ permanent green cards); furthermore, over 2,500 petitioners and their families have received I-526 approvals (5,000+ conditional green cards).
CanAm exclusively operates five government-affiliated, USCIS-designated Regional Centers that are located in the Commonwealth of Pennsylvania, the City of Philadelphia, the County of Los Angeles, the State of Hawaii, and the North Country Region of Plattsburgh, NY. A sixth Regional Center, CanAm New York Metropolitan Regional Center was established in 2013. (For more information, please visit http://www.canamenterprises.com)
ABOUT THE PENNSYLVANIA DCED REGIONAL CENTER
Designated by USCIS on April 13, 2007, the Pennsylvania DCED Regional Center is a partnership between CanAm Enterprises and the Pennsylvania Department of Community and Economic Development (DCED), a non-profit economic development agency of the Commonwealth of Pennsylvania. Projects offered by the Pennsylvania DCED Regional Center are located in 43 counties within the Commonwealth of Pennsylvania, and target such industries as health care, higher education and manufacturing. To date, the Pennsylvania DCED Regional Center has raised over $260 million in EB-5 funding. (For more information, please visit http://www.state.pa.us)
# # #