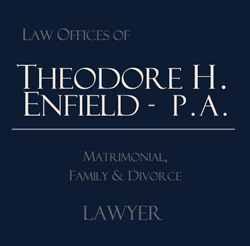 MIAMI, FL (PRWEB) June 13, 2014
Theodore Enfield, a Miami family law attorney, announces to offer the divorcing parties advice in choosing the right type of child custody. There are three different child custody options: Joint custody, Sole custody, and Visitation.
Joint custody means that both parents are allowed to make the major decisions in a child's life. Joint custody does not mean that a child's time with each parent must be divided half and half; it means that physical custody will be shared in such a way to ensure that the child has continuing contact with each parent. Joint custody works best if parents can set aside their differences during the divorce and discuss what is best for their child.
Sole custody means that only one parent has total decision-making authority concerning the major decisions in a child's life. The child also lives with the custodial parent. The non-custodial parent can still see the child, but cannot make any major decisions in the child's life. It is also possible for the court to order that the non-custodial parent see the child as often as if they were a parent who has joint custody.
Visitation means that the non-custodial parent still has a right to see the child. The amount and type of visitation granted will depend on the ages of the children, how far apart the parents live from each other, and other specific factors relating the child and the divorce. Courts usually like to set up visitation schedules for the child to spend time with the non-custodial parent, and a judge may order supervised visitation if the safety of the child is an issue.
Child custody cases are often complicated, and a good divorce lawyer can help provide professional advice during the difficult times. Theodore Enfield is an experienced family law attorney in Miami, dealing with all aspects of child custody and divorce. Mr. Enfield can provide assistance and advice on various matters relating to child custody and child support as well.
About Theodore H. Enfield, Family lawyer:
With more than 30 years of experience helping Florida families deal with family law issues such as divorce, child custody, child support, equitable property settlement and domestic violence, Theodore Enfield, one of the respectful divorce lawyers in Miami, has advised his clients through all issues that are likely to arise during those difficult times.
The Miami Dade County attorney provides each client with a free Florida family law consultation explaining the impact divorce and will have on them financially, in addition to the potential implications it may cause on the rest of their family.
Before making any major decisions, Mr. Enfield encourages clients to first seek his free consultation services to get a firm understanding what is expected and the potential expenses associated in filing any lawsuit.
To schedule a free consultation or inquire about different family law services the Law Firm of Theodore E. Enfield offers, contact Theodore Enfield by calling 305-933-9592, 800-733-5299 or filling up a short contact form at http://www.theodoreenfield.com/contact-me/