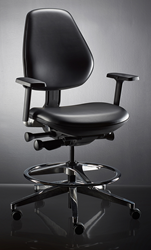 We're extremely honored to be chosen from a field including entries from the best and most talented seating designers and manufacturers in the world.
Chicago, Illinois (PRWEB) June 13, 2014
The new MVMT™ ergonomic seating line from BioFit Engineered Products was recognized with two awards this week in Chicago during NeoCon 2014, the North American contract furnishing industry's largest annual show. In a juried competition sponsored by Contract magazine, the MVMT line was selected as a 2014 Best of NeoCon Innovation Award winner, while judges from Buildings magazine chose the seating line as a 2014 Product Innovations Merit Award winner in the Seating Options category.
Developed by BioFit in collaboration with award-winning designer Bruce Fifield, of Studio Fifield, Milan, Italy, the MVMT line was created for use in the technology, laboratory, healthcare and industrial sectors, with crossover applications in the office market. It combines a unique aesthetic and intuitive user controls with the durability and technologically precise seating design for which BioFit is known. In response to receiving the awards, BioFit president Ed Metzger stated: "We're extremely honored to be chosen from a field including entries from the best and most talented seating designers and manufacturers in the world. Bruce [Fifield] and our internal team set out to create a chair that would revolutionize the user experience with a look to enhance customers' corporate image, and these awards certainly help validate our efforts."
Celebrating its 25th year, the Best of NeoCon Awards by Contract magazine honor new commercial interiors products. These products are introduced to the market in 39 categories ranging from architectural products to workplace technologies. Nearly 50 jurors comprised of interior designers, architects, and facilities management professionals review approximately 325 products prior to the show.
Buildings magazine's 19th annual Product Innovations Award winners are selected from NeoCon participants exhibiting the latest products that enhance the efficiency and sustainability of commercial buildings. As a Merit Award second place winner, the BioFit MVMT line will be showcased in the September 2014 print issue and online version of Buildings.
Located in Milan, Italy, Studio Fifield helps business leaders recognize opportunities for innovation and identify breakthrough ideas that can be transformed into commercially successful solutions. Founded by Bruce Fifield, the company specializes in designing products used in the office environment, medical devices, high-end eyewear, sporting goods, and more.
Located in Bowling Green, Ohio, BioFit Engineered Products is a leading manufacturer of LEED-compliant, ergonomic chairs and stools, GREENGUARD-certified mobile tables, carts and accessories for healthcare, education, laboratory, industrial, technology and office environments. For more information, visit http://www.biofit.com or call 800.597.0246.