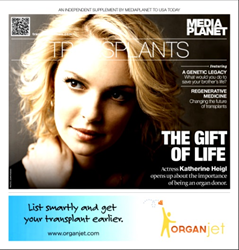 New York, NY (PRWEB) June 13, 2014
The print component of "Transplants" is distributed within the centerfold of USA Today within the markets of New York, Dallas, Chicago, Los Angeles, Atlanta, and Philadelphia, with a circulation of approximately 450,000 copies and an estimated readership of 1.3 million. Its digital component is distributed nationally through a vast social media strategy and across a network of top news sites and partner outlets. To explore the digital version of the campaign, click here.
This edition was made possible with the support of OrganJet, which provides an information service, as well as options for timely and affordable air transport, for patients who are multi-listed or distant listed for organ transplants in the U.S. "By selecting a transplant center 'smartly' - or multiple-listing optimally - patients can reduce their wait times and improve outcomes," says Dr. Sridhar Tayur, a professor at Carnegie Mellon University and founder of the social-enterprise OrganJet. To read more, be sure to pick up a copy of USA Today in one of the distributed markets.
About Mediaplanet
Mediaplanet is the leading independent publisher of content-marketing campaigns covering a variety of topics and industries. We turn consumer interest into action by providing readers with motivational editorial, pairing it with relevant advertisers, and distributing it within top newspapers and online platforms around the world.