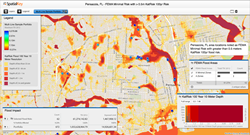 Bret Stone: Insurers can now easily monitor U.S. flood accumulations and calibrate risk management strategy.
San Francisco, CA (PRWEB) June 17, 2014
The partnership brings a combination of KatRisk's innovative U.S. riverine and surface water flood data and SpatialKey's intuitive, speed-of-thought analytic applications to help re/insurers manage flood exposure. SpatialKey Flood Analyst and Flood Underwriting applications, built on KatRisk's detailed U.S. flood maps, are now commercially available.
With increasing flood losses and market demand for new insurance products, this collaboration delivers the risk intelligence re/insurers need to avoid adverse flood risk concentrations, increase underwriting profit, and develop innovative insurance products.
Bret Stone, Vice President of Products at SpatialKey, said: "We are thrilled to be launching our first U.S. flood accumulation and underwriting solutions in collaboration with KatRisk. This solution allows insurers to easily target and understand flood accumulations and to formulate and action underwriting strategy, delivering real business value and competitive advantage."
The SpatialKey flood applications offer users the ability to access, accumulate and visualize KatRisk's high resolution flood maps. Additionally, the KatRisk flood risk data can be complemented with coastal surge data from NOAA, accumulated by USGS hydrological units, and compared to FEMA flood zones to help insurers build intuition and calibrate their views of risk.
Dag Lohmann, CEO and co-founder of KatRisk, said: "We are excited to team with SpatialKey to deliver our detailed and comprehensive flood risk data. The KatRisk 10m resolution data is unique in its detail and breadth, modeling both riverine and surface water flooding in all areas of the contiguous United States with no lower limit on modeled catchment size. The collaboration between KatRisk and SpatialKey has put the SpatialKey application ahead of the curve in being able to rapidly visualize and analyze our highly detailed and expansive data sets."
VIDEO: SpatialKey Flood Analyst Demo
###
About SpatialKey
SpatialKey is a leader in insurance analytics and visualization, delivering real business value via purpose-built applications. SpatialKey Insurance Intelligence integrates industry-leading data solutions with an unmatched user experience and differentiated geo-spatial and business intelligence capability. Through speed-of-thought analytics and agile visualizations, SpatialKey helps insurers understand risk accumulations and composition, respond to live catastrophe events, and manage exposure proactively at the point of underwriting. As insurers innovate to deliver value to their customers and seek to optimize their risk portfolio, SpatialKey will continue to work with them to deliver revolutionary analytics. For more information, visit http://www.spatialkey.com.
About KatRisk
KatRisk is a catastrophe modeling company providing comprehensive and cost effective catastrophe risk models with an emphasis on flood along with tropical cyclone related wind, rainfall and storm surge. Models currently cover the United States and fifteen countries in Asia with additional regions in development leading to worldwide coverage. The KatRisk modelling approach, utilizing high performance supercomputer capabilities, is both detailed and comprehensive, covering the entire geographic area of each region modeled. For more information, visit http://www.katrisk.com.