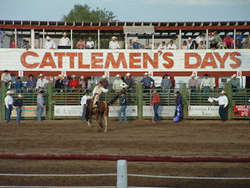 Gunnison-Crested Butte, CO (PRWEB) June 13, 2014
Experiencing the West in its truest form is still possible in Gunnison-Crested Butte, Colo. Not only is Gunnison's 114th annual Cattlemen's Days on tap for July 5 – 13, trail rides on classic mountain trails, overnight stays at three guest ranches, and volunteer experiences on a heritage cattle ranch make it easy and fun to experience the area's rich ranching heritage. The only traffic jam's encountered in the valley are occasional cattle drives led by real cowboys.
Cattlemen's Days
The marquee events for Cattlemen's Days are Professional Rodeo Cowboys Association (PRCA) rodeos with their thrills, spills and good-natured fun. Kids and adults alike will love cowboys displaying courage and skill on bucking broncos, the antics of rodeo clowns, the pageantry and much more. Plus, there is nothing like sitting in the grandstand and seeing the sunset behind the mountains and taking a spin on a carnival ride under the stars.
Top competitors from throughout the country will be on hand the evenings of July 10 – 12 at 7 p.m., with each night having a special theme. For the Tough Enough To Wear Pink (TETWP) rodeo on July 10, Cattlemen's Days pledges a portion of admissions to the local campaign to raise awareness of breast cancer, and many cowboys wear pink. This rodeo is followed by a TETWP dance at Last Chance Saloon featuring Opal Moon Band.
Everyone is encouraged to wear red, white and blue or the American flag on their clothing at the Patriot Night rodeo on July 11 to thank and support military and their families. At the Family Night rodeo on July 12, kids 12 and under are admitted free for general seating when accompanied by an adult purchasing a ticket. Dances at The Elks Lodge wrap up the fun on both evenings.
Rodeo ticket sales begin on July 1 at the Cattlemen's Days ticket booth located in the Gunnison Bank and Trust parking lot. Tickets also can be purchased at the door for $15 general admission and $20 grandstand seating.
Schedule at a Glance
During Cattlemen's Days, catch a glimpse of what it's like to work in tandem with the sheer grace and athleticism of a horse during the Open Horse Show and team roping, barrel racing and sorting. The parade on Gunnison's Main Street is a must-see for families after indulging in a tall stack of flapjacks made by the local Kiwanis. The Gunnison County Fair, cowboy poetry and cowboy church are among the many other events during the action-packed week.
New this year is a concert at I Bar Ranch featuring The Cody Johnson Band, a five-piece band from Texas playing authentic country music as part of the Castle Creek Guitars Summer Concert Series. Advance tickets are $12 for general admission and $15 the day of the show, with gates opening at 8 p.m. and the show starting at 9:30 p.m.

Cattlemen's Days Kickoff Dinner & Dance (for all ages) – July 5
Gunnison County Fair – July 5 – 12
Open Horse Show – July 6
Cowboy Poetry at I Bar Ranch – July 7
Ranch Rodeo – July 8
TETWP Benefit Concert & Live Auction in Mt. Crested Butte featuring Nashville singers/songwriters Dean Dillon, Scotty Emerick and Marti Frederiksen – July 8
Watershed Team Roping & Barrel Racing – July 9
Carnival – July 9 – 12
Pioneer Banquet at The Elks Lodge – July 10
PRCA Rodeos – July 10, 11 & 12
TETWP Dance at The Last Chance Saloon – July 10
Dances at The Elks Lodge – July 11 & 12
Kiwanis Pancake Breakfast & Hamburger Grill-Out at IOOF Park – July 12
Parade on Main Street – July 12
Junior Livestock Auction – July 12
The Cody Johnson Band Concert at I Bar Ranch – July 12
Cowboy Church/FCA Services – July 13
Team Sorting – July 13
Unless otherwise indicated, events take place at Fred R. Field Western Heritage Center. For a complete schedule of events, including times and locations, visit http://www.cattlemensdays.com.
Tough Enough to Wear Pink
There are much larger rodeos around the country, but Cattlemen's Days continues to be the top Tough Enough to Wear Pink fundraiser and the first to raise more than $1 million to help raise awareness about and fight breast cancer on the local level. One of the highlights of the local TETWP calendar is the festival's annual Tough Enough to Wear Pink Concert and Auction on July 8, featuring Nashville singers/songwriters Dean Dillon, Scotty Emerick and Marti Frederiksen. The event starts at 6:15 p.m. and will be held at Lodge at Mountaineer Square in Mt. Crested Butte. Tickets cost $75 and include the concert and light appetizers.
Rich History
For more than a century, the Gunnison Valley has celebrated its Western way of life with annual demonstrations of roping, racing and riding skills. Cattlemen's Days has grown from an annual get-together of local cowboys and cowgirls to a PRCA event that attracts the world's top competitors, the best livestock from across the country, and much more. Since the early days, the rodeo has been scheduled between spring calving and summer haying. It made a debut on a makeshift Main Street arena and now takes place at a modern rodeo complex, the Fred R. Field Western Heritage Center, as well as various venues throughout the community.
Ranch Experiences & Trail Rides
For unforgettable guest ranch stays, visit Waunita Hot Springs Ranch, complete with a natural hot springs pool, east of Gunnison and Harmel's Ranch Resort near Almont in the Taylor Canyon, with private fishing waters, a restaurant with patio overlooking the Taylor River that is open to the public, and much more.
New this year is volunteer vacations and yoga retreats at Rockin' JC Ranch in Gunnison. Help with chores on the ranch such as taking care of the Scottish Highland and Blue Roan Galloway cattle, Red Wattle hogs, chickens, turkeys and gardens. The ranch sells beef, pork, pultry, eggs and produce and has several yoga weekends scheduled from June through September.
Fantasy Ranch Horseback Adventures guides numerous types of horseback outings and wilderness trail rides from a few hours to multi-night adventures that depart from its Mt. Crested Butte stable. Fantasy Ranch is well known for its trail ride from Crested Butte to Aspen, and during winter offers horseback rides and sleigh rides from its Almont stable.
Sawback Outfitters in Crested Butte also offers day rides, overnight trips, a wildflower and horse riding workshop, and Wild Women Wilderness Retreats that encompass three days and two nights. Ferro's Blue Mesa Ranch & Guide Service in the Gunnison area provides one- to three-hour rides with mountain top views of Blue Mesa Reservoir and the surrounding wilderness in Curecanti National Recreation Area along with guided fishing trips and cabin rentals.
Vacation Packages & Visitor Information
To save on flights, hotel rooms, vacation packages, car rentals and more, go to http://www.GunnisonCrestedButte.com. For travel planning and general information, call (800) 814-8893, visit http://www.GunnisonCrestedButte.com and follow GCBTA event promotions on Facebook at http://www.facebook.com/gcbta.