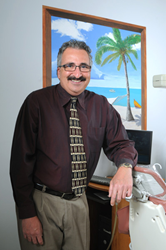 Monroe, CT (PRWEB) June 13, 2014
Monroe periodontist Dr. Richard Amato now provides a minimally invasive treatment for repairing gum recession. Only a select group of dental professionals in the country have completed the training necessary to perform the Chao Pinhole Surgical Technique™, also referred to as Chao Pinhole Gum Rejuvenation™. As a certified Chao Pinhole Surgical Technique™ provider, Dr. Amato is at the forefront of this revolutionary new method for treating gum recession, originally developed by Los Angeles dentist Dr. John Chao.
Gum recession occurs when the surrounding tissue erodes and exposes more of the tooth's surface or root. Gum recession is a common dental problem affecting people of varying ages. Several factors contribute to gum recession, including gum disease, genetics, hormonal changes, overly aggressive brushing, grinding or clenching, and bite misalignment. However, gum disease is the most common cause and receding gums often serve as the first physical indication of periodontitis. Monroe periodontist Dr. Amato encourages patients with receding gums to seek care as soon as possible, as delaying treatment allows the infection to progress and damage the surrounding tissue and bone, inevitably leading to tooth loss.
Since traditional gum grafting surgery requires removing tissue from the patient's palate and suturing it to areas with recession, doctors can usually only treat a one or two teeth in a session in order to allow patients time to heal. For patients with extensive gum recession, it may take months or even years to resolve the issue using the traditional technique. With the minimally invasive Chao Pinhole Surgical Technique™, Dr. Amato can treat multiple teeth simultaneously and usually complete each tooth in a matter of minutes. In addition to significantly less pain, swelling, and bleeding, the majority of patients notice an immediate aesthetic improvement in their smiles following the procedure.
When treating a patient's receding gums with Chao Pinhole Gum Rejuvenation™, Dr. Amato makes a tiny pinhole near the affected areas. Using specially designed and patented tools, he then guides the slackened tissue over the receded areas to restore the gum line. In the final step of the procedure, Dr. Amato places tiny collagen strips through the entry points beneath the gums to secure them in position while they heal.
For more information about gum recession and Chao Pinhole Gum Rejuvenation™, please visit http://www.connecticutperiodontist.com/ or call (203) 712-0917 to schedule an a consultation with Monroe periodontist Dr. Amato.
About the Doctor
Dr. Richard Amato is a periodontist and dental implant specialist who provides personalized dental care using the most advanced technology for patients in Monroe, Connecticut. He has placed thousands of dental implants since 1989. Dr. Amato graduated first in his class with a DDS degree from Stony Brook University. He then completed a full time multi-year specialty residency and received his Certificate of Proficiency in Periodontics from Eastman Dental Center at the University of Rochester. He belongs to the one percent of dentists in the USA currently providing the first FDA-cleared laser procedure for gum disease treatment. Dr. Amato is the first and most experienced provider of LANAP® therapy in Fairfield County, Connecticut. To learn more about Dr. Amato and his dental services visit his website at http://www.connecticutperiodontist.com and call (203) 712-0917.