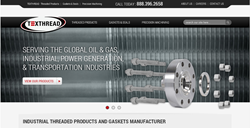 The new website includes a section on Texthread's product expansion into gaskets and seals.
Houston, Texas (PRWEB) June 16, 2014
Texthread unveiled a re-designed company website. The site welcomes its visitors with a clean design and easy navigation. Users will readily find content on the Texthread product line and can request quotations using the quick on-line form.
The new website reveals Texthread's precision machining services with expertise in the machining of complex gaskets and seals for the oilfield as well as specialty technical parts machined to exacting tolerances. A new section was also added to provide content on Texthread's product expansion into gaskets and seals, including an extensive inventory of API ring joint gaskets.
The website was designed to be fully compatible with all current browsers and mobile devices.
About Texthread
Texthread is a manufacturer and distributor of the highest quality industrial threaded products, API ring gaskets, and specialty machined parts. Texthread has full-line machine shop capabilities as well as finishing processes for products to be heat treated to ASTM requirements and supplied with a variety of coatings to meet customer specifications. Based in Houston, Texas, Texthread is recognized for the quality of its products and is ISO 9001 Registered.