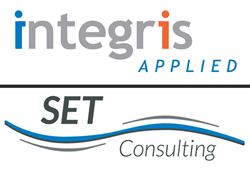 Viewing the enterprise as a multisourced environment that must address business needs is critical for an organization to grow.
The Woodlands, TX (PRWEB) June 17, 2014
Integris Applied, a sourcing advisory firm, and Set Consulting, a strategic advisory firm focused on the government sector, today announced a formal partnership designed to assist government entities transition to more agile and transparent delivery models. The partnership is a logical outgrowth of the collaborative work undertaken by the two firms, as they have engaged in some of the largest strategic technology initiatives in state government.
"Our clients require a service delivery model that can integrate the new with the old—technology, processes and service delivery partnerships—to answer the call for innovation and effectiveness," said Les Druitt, founding principal of Integris Applied. "Finding the right balance between the shared and competing interests of all of the parties engaged in service delivery is the challenge of the modern enterprise—and it's the challenge this partnership will address."
The new partnership is designed to help organizations adapt IT delivery models to the changing technology landscape, and to the needs of an increasingly tech-savvy customer base that requires greater innovation and flexibility. Working together, Integris Applied and Set Consulting will develop and implement governance strategies and delivery structures that will more effectively integrate legacy, outsourced and new services in a sustainable way. "The need for integration across internal delivery organizations, outsourced partnerships, "as a service" offerings, and the business units that use technology to serve customers increases as the complexity of offerings from the market place grows. Viewing the enterprise as a multi-sourced environment that must address business needs is critical for an organization to grow," said Druitt.
"This partnership brings a perspective, an approach and a set of experiences that are unique in the market," added Patrick Moore, Set Consulting's founder. "We have walked in our clients' shoes, as well as those of the service providers striving to bring innovation to their clients. We are convinced that there is a better way to deliver IT services, and to help the customers our clients are working so hard to serve. This partnership will help us develop that 'better way.'"
The overarching objective of the partnership is to create healthy relationships across each client organization's IT environment, unlocking unrealized potential for the organization's customers.
"The visions, approaches and capabilities of our two firms create a compelling value proposition for our clients. Together, our firms have deep experience across a range of strategic engagements, and a deep understanding of the market place," concluded Druitt.
About Integris Applied
Integris Applied (http://www.integrisapplied.com) is an experienced IT sourcing advisory firm dedicated to facilitating healthy service relationships. We believe there is significant value to be unlocked from a collaborative approach to design and oversight of the information technology sourcing relationship. The experts of Integris Applied provide support for all aspects of establishing and maintaining service relationships, from deal design, procurement advice, negotiation team support and analysis, through to assistance with the structuring of governance and relationship management models, executive mentoring and coaching, and mediation on behalf of the parties' shared interests in the long-term health of the relationship. Specialty focus areas include multisourcing and multiparty integration, collaborative negotiation, and public sector transparency.
About Set Consulting
With years of executive experience leading some of the largest and most complex change initiatives undertaken in the government space, Set Consulting (http://www.setconsulting.org) seeks to align the needs of its client organizations with the needs of its clients' customers. Set Consulting believes that relationships must be win-win, embraces the truth even if it is not something a client might want to hear, and always conducts its operations with the highest levels of integrity.