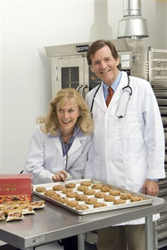 We now have official patent claims on the only baked good in the world that contains a clinically effective dose of omega-3 fish oil.
Venice, FL (PRWEB) June 16, 2014
On June 9th, Omega3 Innovations received notice that the company had secured the patents for Omega Cookie®, a high dose omega-3 breakfast cookie.
"This is a big victory for us," said Omega3 Innovations co-founder and cookie creator, Bo Martinsen, MD. "We now have official patent claims on the only baked good in the world that contains a clinically effective dose of omega-3 fish oil."
Each Omega Cookie contains 2000 mg of EPA/DHA, a dose high enough to provide a measurable anti-inflammatory effect and lipid lowering impact, according to Martinsen. In addition, the Omega Cookie is gluten free and also delivers 5 grams of oats fiber, 800 IUs of Vitamin D, and 300 mg of calcium.
"It is extremely gratifying to know we have created an oatmeal based breakfast cookie that can improve the health of millions of Americans," said Omega3 Innovations co-founder, Anne-Marie Chalmers, MD. "As physicians, Bo and I are proud to be producing a healthy food that consumers choose to eat not only the health benefits, but for the good taste and convenience too."
According to the company founders, the patent is not based on a single procedure, but on a sequence of ingredient combinations and material handling. The patent also covers the manufacturing of several other Omega3 Innovations's products, including the Omega Heaven® chocolate-covered cookie, which won the international SupplySide Editor's Choice Award for best new omega-3 product in November 2013.
Martinsen said that the company spent over five years developing the Omega Cookie.
"Omega-3 oxidizes when exposed to heat, so finding a way to protect the oil during the baking process was a challenge," said Martinsen. "We threw away hundreds of batches and conducted numerous clinical trials to make sure the omega-3 was still effective post-baking."
Still, the co-founders agree the many years of effort have paid off.
"We have created a completely unique omega-3 supplement," said Chalmers. "When the University of Maine tried to make a similar omega-3 bar in 2012, they were only able to add one-fifth the omega-3 dose found in an Omega Cookie before the bar started tasting fishy."
Omega Cookie is currently available in chocolate chip, ginger raisin, and cranberry. The Omega Cookie does not contain any added sugars, preservatives, or gluten, and is diabetic-friendly. It will be showcased at the diabetes educators' annual convention in Orlando in August.
About Omega3 Innovations:
Omega3 Innovations is the world's only manufacturer to have successfully created foods containing an effective daily dose of omega-3 fish oil. As a physician-directed biotech company, Omega3 Innovations has developed a complete line of fresh omega-3-based foods, including Omega Cure® liquid fish oil, the gluten-free Omega Cookie®, chocolate-covered Omega Heaven® cookies and Omega Passion® frozen chocolate truffles. All Omega3 Innovations products are free of gluten, trans fats, added sugars and preservatives.