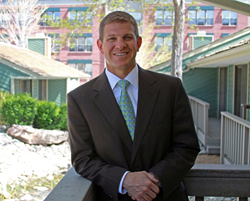 Littleton, CO (PRWEB) June 16, 2014
Dr. Adam F. Weaver, the periodontist of Mountain Top Periodontics, expands his practice to include patients from Littleton. As a periodontist, Dr. Weaver specializes in gum disease treatments, and he recommends evaluations for anyone experiencing gum disease symptoms. He uses the LANAP® protocol as an effective way to treat gum disease for patients seeking laser gum surgery in Littleton. With the help of LANAP® laser treatment, Dr. Weaver offers local residents many benefits that traditional surgery cannot match.
Many people underestimate the urgency of gum disease. While the disease is painless at first, it slowly damages the gums and bone surrounding teeth, eventually necessitating extractions. Early intervention is the best treatment for gum disease, which means that patients should constantly watch for gum disease symptoms. Continual bad breath, bleeding or swollen gums, loose or painful teeth, and receding gums are all common symptoms that should concern patients and lead them to visit Dr. Weaver for an evaluation. Prompt response to disease may remove the need for laser gum surgery in Littleton. The safest way for patients to care for their gums and teeth is to return for a minimum of bi-annual checkups.
Once gum infections progress beyond the ability to control with home treatments of brushing, flossing, and rinsing with a mouthwash, Dr. Weaver evaluates patients for the possibility of performing the LANAP® laser protocol. Thanks to the latest technology, local patients enjoy the benefits of laser gum surgery in Littleton rather than traditional surgery. With LANAP® treatment, Dr. Weaver uses a highly specific laser which allows him to remove only infected tissue while leaving healthy areas unharmed, a feature not always possible with traditional surgery. This means that patients can expect a shorter recovery period and only minimal discomfort. While the laser removes diseased tissue, it cauterizes the small wound, which decreases the risk of infection and bleeding. Patients generally leave their LANAP® laser treatment appointments feeling well enough to perform their normal activities.
Anyone interested in learning more about gum disease symptoms, the LANAP® protocol, or other treatments Dr. Weaver performs, should visit http://www.mtperio.com or call his office at (303) 800-0120. He answers patient questions thoroughly and is happy to set up an appointment for a consultation.
About the Doctor
Dr. Adam Weaver is a periodontist offering personalized dental care for patients in Greenwood Village, CO since 2000. Dr. Weaver attended Brigham Young University, and during that time took a two year leave to serve as a missionary for the Church of Jesus Christ of Latter-day Saints. Upon his return he completed his bachelor's degree in Medical Science. He attended dental school at the University of Colorado Health Sciences Center where he received his Doctor of Dental Surgery degree. He joined the periodontal residency program at the V.A. Medical Center in Milwaukee, WI, and earned his Masters of Science degree at Marquette University. Dr. Weaver is fluent in Spanish, Portuguese, and Guarani. He is part of one percent of dental professionals providing the LANAP® FDA cleared laser procedure for gum disease and periodontal treatment. To learn more about Dr. Weaver and his dental services, visit his website at http://www.mtperio.com and call (303) 800-0120.