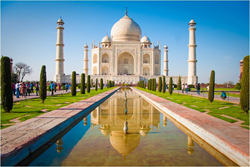 Join the smarTours email list and enter to win a free trip to India!
New York, New York (PRWEB) June 17, 2014
smarTours is offering a "once in a lifetime" journey to one of the world's most colorful and magical destinations: India. By simply signing up for the smarTours email list before July 8th, you will automatically become eligible to win the smarTours Incredible India sweepstakes for a free and unforgettable trip to India.
smarTours' Incredible India trip includes nights in Delhi, Agra, and Jaipur. Visit the Taj Mahal in Agra, the Red Fort in Delhi, the Memorial to Mahatma Gandhi, Agra Fort, and enjoy an exciting elephant ride to Amber Fort in Jaipur. This exotic vacation package includes round-trip international airfare from New York's JFK airport, all airline fees, fuel surcharges and taxes, ground transportation, accommodation at deluxe and first class hotels, daily breakfasts, a farewell dinner, sightseeing tours, and an English-speaking tour director.
For a chance to win the trip of a lifetime, join the smarTours email list by July 8th! The smarTours email list provides subscribers with hot deals and exclusive travel offers all across the globe — Africa, Asia, Latin America, India, and Europe.
Retail value of the promotion starts at $1299 per person based on double occupancy. Offer not valid on trips departing in August 2014, and travel must be completed within one year of the promotion end date.
Visit the smarTours sweepstakes page HERE and sign up for a chance to win!
About smarTours
smarTours was founded in 1996 with one goal in mind: to provide high quality, exciting group tour packages to some of the most fascinating countries in the world at the lowest possible price. The team at smarTours believes deeply that high quality international travel should be affordable. Since 1996, we have provided unbeatable travel experiences to over 130,000 happy travelers. Most of our travelers are repeat customers, including many who have traveled with smarTours 5, 10, even 15 times. Our tours, which we stand behind as "Best Travel Bargains", have received considerable press coverage over the years from the likes of the Washington Post, New York Times, Los Angeles Times, and USA Today, among many others. And smarTours has been the recipient of several prestigious awards for providing some of the best value in travel, including: "Best Provider of Vacation Package Deals to Europe or Asia" (2012 Travelzoo Awards) and "Best Priced Packages to South Africa" (2010 Ubuntu Tourism Awards).