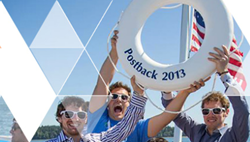 Seattle, WA (PRWEB) June 16, 2014
HasOffers (http://www.hasoffers.com), the leader in attribution analytics and creator of MobileAppTracking (http://www.mobileapptracking.com), today announced registration is now open for the 2nd annual Postback 2014 conference--which will take place July 17-18 in Seattle--register now at http://www.hasoffers.com/postback.
Capped at 400 attendees, this exclusive conference brings the all-stars of mobile advertising and performance marketing from around the world together to discuss seminal industry issues in an inspiring setting that includes keynotes by Kevin Weil (VP of Product, Revenue, Twitter), Jon Alferness (Director of Product Management, Mobile Ads Lead) and Jules Polonetsky (Board member, Future of Privacy Forum) along with a live performance by a secret guest and a private boat cruise along the Puget Sound waterfront.
"HasOffers' mission is to provide transparency to the ever-evolving advertising ecosystem through powerful and sophisticated technologies, and our Postback conference is a reflection of this ethos," said Peter Hamilton, CEO, HasOffers. "Postback provides an open, nurturing forum for this amazing community of developers, publishers and advertisers to meet and identify ways to continue growing together. We have an epic event planned, and I can't wait to discuss trends and rapid growth of our industry--while making plenty of time to socialize and build new and stronger global marketing relationships."
Postback 2014 activities include:

9 sessions addressing timely topics in performance marketing and mobile advertising
The opportunity to connect with fellow advertisers and networks from around the world – last year more than 40 countries were represented
HasOffers support team members leading 10 hands-on labs and trainings that provide customers with code-level assistance, insight into optimal techniques and guidance on how customers can make the most of HasOffers and MobileAppTracking
Private concert, headlined by a secret guest
Half-day, private cruise along the Seattle waterfront
"Postback is a great conference for all forward thinking mobile marketers. It brings together great people, great insights and a great time in beautiful Seattle!" said Jesse Pujji, Co-Founder & CEO, Ampush.
Please register for Postback 2014 at http://www.hasoffers.com/postback. See you there!
# # #
About HasOffers and MobileAppTracking
HasOffers was founded in 2009 by twin brothers Lucas and Lee Brown when they recognized a huge need in results-driven marketing, and the company quickly became the leading software for performance marketing campaigns. HasOffers was named the 63rd fastest growing company by Inc 500 in 2013. The company is backed by Accel Partners' Rich Wong, and has more than 160 employees across five offices worldwide, with headquarters in Seattle, WA.
MobileAppTracking.com (MAT), created by HasOffers, is the industry standard platform used by mobile app marketers to unbiasly attribute app installs, in-app engagement, and purchases back to marketing sources (such as social networks, publishers, and mobile ad networks). MAT is integrated with more than 375 major ad networks and publishers, including Google, InMobi, and Drawbridge.
Learn more at http://www.hasoffers.com/ about and http://mobileapptracking.com/.