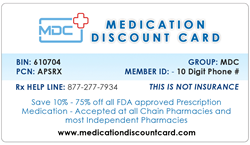 Houston, TX (PRWEB) June 17, 2014
Psoriasis is an autoimmune disease that is most often associated with dry, red patches on the skin—but this disease is not just skin deep. It can increase a victim's risk for cardiovascular disease, some cancers, certain types of arthritis, or ulcerative colitis. Psoriasis is referred to as a genetic disease, since it occurs in families and is not contagious. It also has no cure at present, which means that symptoms must be managed at all times to relieve pain and itching, prevent infections, and keep the disease from progressing. Topical medications like Avage, Tazorac, or Fabior do help keep symptoms manageable for many patients. But because psoriasis is not life-threatening, treatments are not always covered by insurance. That's one of the reasons MedicationDiscountCard.com offers savings of 10-75% on prescription retinoids like Tazorac.
Certain environmental factors can greatly exacerbate psoriasis, making treatment mandatory rather than optional. Dry weather, excessive sunlight, stress, depression or anxiety, sunburn, or medications like lithium or beta-blockers (often taken for high blood pressure) can all make psoriasis symptoms worse. Fabior and Tazorac work for sufferers of psoriasis, and also help with acne, first degree burns, and so-called sun poisoning. Topical medications for psoriasis can make patients more comfortable, but only if they can afford them. Medication discount cards offer big savings to uninsured patients—which often mean the difference between treating psoriasis and suffering though it.
Medication discount cards can be used by anyone who is uninsured or underinsured, or those whose existing insurance may not cover needed prescriptions like Tazorac. Medication discount cards do not require a medical questionnaire or financial obligation. Patients can download and print a Tazorac discount card instantly from the company's website, or request that a card be sent via postal mail. Cards can be used at any of thousands of local or national pharmacy chains. Cards do not expire, and may be used as often as needed for savings of 10-75% on thousands of prescription medications. Psoriasis can be painful and irksome, but medication discount cards make relief affordable on any budget.