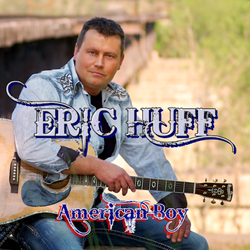 (PRWEB) June 17, 2014
Eric Huff's music is often described as modernized, traditional country music. His new album, "American Boy," reflects the style of country music adopted and loved by the Baby Boomer generation, both through the music and the artwork. The album will be released physically on June 21st and digitally on June 17th. The album release party is June 21st at the Leesburg Music Festival in Ohio.
Eric Huff was born in Ohio, where he began playing the guitar at the age of thirteen. In the beginning, he concentrated on Rock and Roll, later becoming interested in Country, which he has performed exclusively since. Huff began, and continues, his touring career in Clean Cut Country Concerts as well as many festival and charity events. Huff has also entertained at several Nashville clubs, Shotgun Red Show, and the General Jackson Show Boat.
"American Boy" was produced by Perry Music Group, which is run by the sons of legendary Nashville songwriter Wayne Perry. Bryan Wayne Perry, Wayne's oldest son, serves as Project Manager on the release. Justin Wayne Jones, Wayne Perry's protégé, produced the album at the famous Dark Horse Recording Studio in Franklin, Tennessee, while Dave Hagen served as engineer and Cecil Meade, Huff's manager, served an instrumental role to bring the production group together.
The new album features three Wayne Perry songs as well as original Huff material and a few crowd-pleasing contributions by other writers. Many people feel the Baby Boomer generation's biggest contribution to both American and World culture is music – notably through the genres Country, Rhythm and Blues, and Rock and Roll. These styles have stood the test of time, becoming established in people's lives over decades. Today's rapidly changing technology has flooded the music world with new niches that often don't see the success of these more established genres. Huff is well known for delivering the best by traditional Country music standards.
For information on Eric Huff's new release, "American Boy," and the CD launch party at the Leesburg Music Festival, visit http://www.perrymusicgroup.com. For questions, contact Bryan Wayne Perry bryanwayneperry (at) gmail (dot) com.
To preview "American Boy," visit iTunes.
About BFM Digital, Inc.
BFM Digital is a global digital music company committed to serving the independent music community and delivering quality music, spoken word, and video, and other digital content to leading online retailers worldwide. Representing a diverse catalog of indie labels, artists and publishers, BFM distributes to all of the major music services including iTunes, Amazon, Spotify, YouTube, Google, Rhapsody, eMusic, MediaNet, Beatport, Pandora, Beats Music, LastFM, RDIO, 7Digital, and many more. With an unparalleled commitment to personalized service, BFM works closely with their content providers from around the world to ensure maximum exposure of their catalog by customizing marketing efforts and building strong relationships with BFM's digital store partners. At BFM Digital, we listen, so you can be heard. http://www.bfmdigital.com