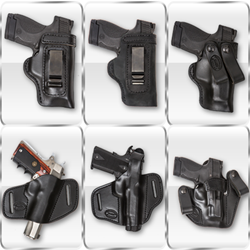 Saint Cloud, Florida (PRWEB) June 18, 2014
The Holster Store, Inc., a premier leather holster manufacturer located in Saint Cloud, FL, announced today that it has released holsters for the Remington R51. As of June 16, 2014 we currently have over 18 different models to choose from. Remington R51 owners now have leather and kydex gun holsters available to them.
There are a limited amount of holsters available for this weapon in the shooting industry and we see a need to accommodate the R51 owners. With the R51 being a perfect concealed weapon, we have made sure to create a wide selection of inside the waistband, outside the waistband, and small of back holsters that fit the R51 perfectly.
http://www.theholsterstore.net/Remington-R51-Holsters-s/2014.htm
Please contact 1-866-998-7254 if you have any questions about holsters for the Remington R51 or The Holster Store's other products.
About the Company:
The Holster Store, Inc. was established in 2001 as a family and employee owned company. Comprised of a diverse team of military veterans, former and current law enforcement officers, and gun industry professionals, The Holster Store family has years of both industry and in-the-field experience. Attention to safety, quality, and durability are carefully considered in the design of each and every one of our products.
Our product line is manufactured from quality American made components sourced from other small family owned businesses throughout the United States. Since the inception of our company, we have strongly believed that a product should last you a lifetime. The Holster Store, Inc. offers a 100%, no questions asked unconditional lifetime warranty on every product we sell, thus standing by our product for generations to come.