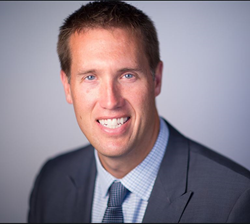 Nathan has excellent banking knowledge and management skills, in addition to the ability to develop outstanding customer relationships
Central City, Iowa (PRWEB) June 19, 2014
Bruce Anderson, chairman and chief executive officer of NXT Bank, has announced that Nathan D. Koch has been promoted to president of NXT Bank and has been elected as a member of the NXT Bank board of directors.
Anderson stated that Koch's promotion is part of the bank's ongoing, overall succession planning, as well as part of the evolution and implementation of the bank's long-term strategic plan.
"Nathan has excellent banking knowledge and management skills, in addition to the ability to develop outstanding customer relationships," said Anderson. "This transition will allow me to focus on strategic issues as the CEO, including increased customer contact and business development opportunities in all of our markets, while entrusting Nathan with the day-to-day operations of the bank as the president."
According to Anderson, NXT Bank's acquisition of five Liberty Bank offices throughout eastern Iowa last year has significantly increased the need for additional executive-management oversight and involvement in the daily operations of the bank. The bank has expanded its geographical footprint in Iowa from two offices in Central City and Marion to seven offices, including the Cedar Rapids, Iowa City/Coralville and Waterloo/Cedar Falls markets.
Anderson joined NXT Bank, formerly known as City State Bank, in 2008 as president and chief executive officer. A group of investors based in eastern Iowa led by Roger A. Baker acquired a majority interest of the bank in December 2009. Under Anderson's tenure, NXT bank has increased its assets from $82 million to over $255 million as of June 2014.
Koch joined NXT Bank in 2010, serving as senior vice president and chief operating officer. Prior to joining NXT Bank, Koch served as president of American Bank and Trust Company, N.A., a $670 million financial institution with offices in Chicago and the Iowa City and Quad Cities areas. An Iowa native, Koch earned his B.A. in political science and his Juris Doctor from University of Iowa.
About NXT Bank
NXT Bank is a locally owned community bank established in 1946 with headquarters in Central City, Iowa. The Bank has branch offices in Cedar Rapids, Coralville, Marion, Central City, Waterloo, and Cedar Falls. It offers comprehensive financial products, services and guidance to commercial, agricultural, mortgage and consumer customers. NXT Bank Insurance Agency provides agricultural, commercial and consumer insurance products and protection to area customers. NXT Bank has more than $255 million in assets. For more information, visit http://www.NXTBank.net.
###