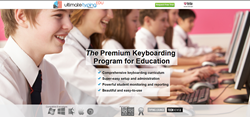 ... typing skills supply students with a capacity not only to excel at school but to also later do well in whichever career path they choose.
New York City, NY (PRWEB) June 20, 2014
Ultimate Typing™ EDU is the latest project by eReflect, one that paves the way towards integrating cloud technology in schools worldwide. Ultimate Typing™ EDU is specifically designed for teaching keyboarding at schools and is equipped with classroom-essential technologies such as live progress monitoring of students' typing activity and unlimited user accounts, both of which are available through the Ultimate Typing™ EDU subscription for schools.
The keyboarding program can be easily integrated into any existing IT curriculum and it's resources-light in terms of practice time required. eReflect reassures schools and teachers that the software is easy to set up and configure, making Ultimate Typing™ effortlessly manageable for educational institutions of any size. eReflect has always been a vocal proponent of IT skills for young people, as these are often the key to personal success. More specifically, note the eReflect representatives, typing skills supply students with a capacity not only to excel at school but to also later do well in whichever career path they choose.
Equipped with cutting-edge technologies for progress reporting, the software makes it easier for teachers to supervise the learning progress of their students and fine-tune individual exercises and goals for better results.
With this cloud version of keyboarding program Ultimate Typing EDU, eReflect has ensured that teachers can integrate typing lessons in their IT classes in the most efficient and effortless manner imaginable. Typing practice can be limited to less than 10 minutes a day, and in no more than 3 weeks a student will be able to see a definite improvement in how quickly and accurately they touch type.
eReflect is revolutionizing how touch typing is taught, by making it an affordable, time-efficient skill, one that students do not need to spend hours on end to master. To learn how to type a student only needs a reliable, feature-rich typing tutor. With the help of Ultimate Typing™ EDU, students can easily improve their typing speed and accuracy in a matter of weeks. All students need to do is log in with their details in the cloud–based Ultimate Typing™ EDU system, and start practicing with its lessons, games, and other typing activities.
For more details on Ultimate Typing™ EDU please visit http://www.ultimatetyping.com/schools.
About Ultimate Typing™
Ultimate Typing™ software is designed specifically for the improvement of typing skills. Created by eReflect, a world leader in e-learning and self-development software, Ultimate Typing™ has been informed by the latest developments in the science of touch typing.
Since its creation in 2006 by Marc Slater, the company has already catered to over 112 countries all over the world, offering products with the latest cutting-edge technology, some of which are among the world's most recognized and awarded in the industry.