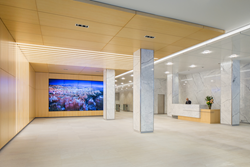 New York, NY (PRWEB) June 17, 2014
Commercial office space in varying sizes and lease options is now available for rent at Virgo Business Centers' 575 Lexington Avenue location. One of six Virgo centers throughout the city, 575 Lexington Ave is located at the intersection of 51st St and Lexington, by Grand Central. The Upper East Side area is in high demand for commercial real estate. Like all Virgo Business Center locations it is an elegant and professional office space.
Virgo's business center at 575 Lexington Ave offers a variety of options for small businesses. Space is available for anywhere from 1 to 50 employees. Options include shared workspace, group offices, or executive suites. Each has access to conference and meeting rooms with custom rental term. Space can be rented by the hour, day, week, or month depending on the needs of the business. Rentals come with a full set of amenities including fully stocked pantry/kitchen, professionally staffed reception area, telecom services, mail handling and more. All utilities are included in the rental price. Virgo's clients can have a fully functional office set up and running within fifteen minutes.
With commercial office space in Manhattan increasingly expensive, and vacancy rates dipping below ten percent in some parts of the island, finding the perfect office space is becoming increasingly difficult. Especially for small start-ups.
In a traditional rental arrangement, small start-ups must either rent more space than they need so they can grow into it comfortably, or rent the space they need at startup, and possibly find themselves lease-trapped in a small space when they begin to grow. Virgo's flexible rental options provide an alternative to startups and other small business that need to be able to adjust their office space as they restructure. Small businesses renting space in Virgo's 575 Lexington Ave location will be able to change their rental agreement as needed to increase or decrease the amount of space they use.
Executives whose work requires a great deal of travel can also benefit from Virgo's versatile rental packages. Instead of maintaining a permanent presence in multiple cities, or doing without a home-base when traveling to NYC, visiting executives can rent an executive suite with all the amenities included with Virgo for as long as they'll be in the city. This gives them the perfect professional space when they need it, and no need to pay for and maintain the space when they aren't using it.
575 Lexington Ave's proximity to the United Nations also makes it a good location for anyone who has dealings with the many embassies and diplomatic events in the area.
Virgo Business Centers has been providing high-quality serviced office space in the New York Metropolitan area since 1998. As one of New York City's premier providers of office space, Virgo prides itself on professionally furnished office solutions at a low-cost point, as well as a wide range of other business services.
Virgo Business Centers
575 Lexington Ave
New York, NY 10022
(212) 600-2300
http://www.virgobc.com