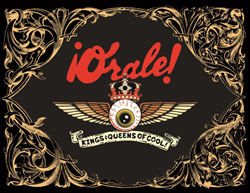 "We're thrilled to present this exhibition, and grateful for the fantastic community collaboration who created it," says Harwood Museum of Art Director Susan Longhenry. "We look forward to filling the Harwood's galleries with the spirit of ¡Orale!.
Taos, New Mexico (PRWEB) June 22, 2014
¡Orale! The Kings and Queens of Cool opens Saturday, September 20, 2014 and will close on Sunday, January 25, 2015. This exhibition will be celebrated with a car show, street party, live music, visiting artist talks and many surprise guests throughout its run. There also will be free museum admission for the opening on Saturday, September 20 from 10:00 am to 5:00 pm.
Each of Harwood Museum of Art's changing exhibition galleries will focus on a different aspect of this genre.

Lowbrow Insurgence: The Rise of Post-Pop Art, exhibited in the Mandelman-Ribak Gallery, will bring together the work of internationally recognized artists such as Robert Williams, Gary Baseman, Carrie Ann Baade, R. Crumb, Ana Bagayan, Glen Barr, Ned Baughman, Lou Beach, Becca, Joe Coleman, Terri Corbin, Alex DeLeon, Bob Dob, Don Fritz, Isabel Samaras, Jeff Soto, and Jose Rodolfo Loaiza Ontiveros.
Nuevo Lowbrow: Pop Culture in the West, presented in the Peter and Madeleine Martin Gallery, will feature the work of artists primarily from Northern New Mexico working in the Post-Pop or Lowbrow genre. Exhibiting artists will include Ricardo Isles, Joel Nakamura, KRK Ryden, Lynn Coleman, Conrad Cooper, Steve Galloway, Gomez Bueno, Esteban Bojoquez, Michael McMillen, MJ Myers, Rik Allen, Greg Moon, Douglas Johnson, Margaret Kasahara, and Rodney Wood.
Pinstripe Madera: Pinstriping as Minimalism, exhibited in the Caroline Lee and Bob Ellis Gallery, will feature skateboard decks pinstriped by nationally selected artists including Mickey Hortons, "Bugs" Efrain Gonzales, Dave "Letterfly" Knoderer, Zach "ZROD" Rodriguez, Luke "Lucas" Martinez, "Low Low" Arthur Medina, Ron Hernandez, Albert Neri, Jonathan Mercado, David Anthony Garcia ("D.A. Garcia"), Joseph Gonsowski ("Pollock Joe"), Rody Kuschnereit, Herb Martinez ("The Line Dr."), Kerry Buckley, Anamaria Medina, Victor Martinez, Mr. Rhythm, Dio Dominguez and Alex Juarez.
El Tatuaje: The Tattoo in Underground Culture, presented in the George E. Foster, Jr. Gallery of Prints, Drawings and Photographs, will explore the tattoo as an art form.
Toby Morfin and Luke Martinez II, will be presented on the Harwood's Curator's Wall.
Jina Brenneman, Curator of Exhibitions at the Harwood Museum of Art, states "Not surprisingly, the outlaw, seemingly expatriate state of New Mexico is a breeding ground for the 'outsider', the 'unruly citizen', the 'underground artist'. The descriptions for these archetypes relate very directly to Post-Pop influences and Lowbrow subject matter. Cars, pin-ups, punk, rock and roll, comics, tattoo, prison art, graffiti, pulp, surfer, airbrushed – anything from the streets and of the people, art that embodies technical craftsmanship blended with fantastical imagery and visually dynamic narratives."
Brenneman continues, "When we trace the lineage of these new expressions, we have seen cultural influences as widespread as Kustom Kar Kulture, Surfing and Street Art, Underground Comix and Rock Art to Tattoo and Saturday Morning Cartoons! Add to these populist forms the powerful influence of Pop Art and Surrealism, a renewed interest in narrative content (story telling) and a new aesthetic begins to emerge. Possibly the most compelling aspect of all of this has been how seemingly disparate parallel paths, bending to the subtle arc of history, have coalesced in this time and place where past, present and future converge! Kings and Queens of Cool!"
Brenneman led a team of collaborators to create ¡Orale! The Kings and Queens of Cool, with co-curators including Toby Morfin, Dennis Larkin and El Moises. The exhibition will be accompanied by a 100-page full-color catalogue, designed by Esteban and Karen Bojorquez, documenting the artists in the exhibition.
Exhibition Opening Events: Director's Circles & VIP Preview Reception, Thursday, September 18, 5-7 pm and Alliance Members' Opening Reception, Friday, September 19, 5-7 pm.
Free Museum Admission Saturday, September 20, 10 am - 5 pm.
Drive In Night/Street Party, Harwood Museum of Art and Ledoux Street Businesses
Saturday, September 20, 4 p.m.-8 p.m. with a car show, live music and artist talk.
Tours: To schedule a guided group tour of ¡Orale! The Kings and Queens of Cool, contact the Harwood's Department of Museum Learning and Public Programs at education@harwoodmuseum.org.
The Harwood Museum of Art, 238 Ledoux Street, Taos, NM 87571/ 575 758-9826 / http://www.harwoodmuseum.org / http://www.facebook.com/HarwoodMuseum
Open Monday through Saturday: 10 am-5 pm / Sunday: Noon-5 pm / Closed Monday November through March