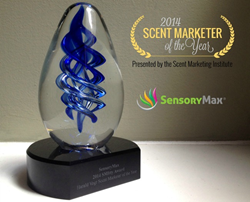 We applaud SensoryMax for this recent honor and thank them for helping shape the future of the Lincoln showroom experience. - Enza Sleva, Lincoln Client Experience Manager
Toledo, Ohio (PRWEB) June 18, 2014
Although it's not seen, clients walking into select Ford and Lincoln dealerships will certainly notice the award-winning work of SensoryMax.
The agency develops Aroma Marketing programs for the two automotive brands and many other companies, including Ocean Bank in Miami and Virginia Tire and Auto in northern Virginia.
For their work in expanding the awareness of Scent Marketing, SensoryMax has been named the 2014 Harald Vogt Scent Marketer of the Year. The announcement was made June 13th in New York City during ScentWorld, the premier scent and sensory marketing event.
"The Harald Vogt Scent Marketer of the Year SMItty Award is given to brands that achieve excellence in the field of Scent and Sensory Marketing," said Caroline Fabrigas, CEO of ScentWorld and the widow of the late founder. "This award was inspired by the late Scent Marketing pioneer and founder of The Scent Marketing Institute, ScentWorld and the SMItty awards themselves. It is with great pleasure that we honor SensoryMax with the 2014 Harald Vogt Scent Marketer of the Year award."
"SensoryMax has shown real professionalism and leadership in the field of Sensory Marketing," wrote Jennifer Dublino, VP of Development for ScentWorld, the presenting organization. "Their work with Lincoln is making a significant difference, not only to the client in terms of a more pleasant shopping experience and a stronger brand that is solidly positioned for the future, but also by demonstrating the efficacy of a well-conceived Sensory Marketing program that can have similar results for other brands."
Director of SensoryMax Michael Seay accepted the award. "We use signature scents as a marketing tool because they're just as powerful and identifiable as a logo. People are beginning to understand that aroma is an essential component of a brand and, at the same time, a real differentiator." A signature scent can also be applied to promotional products and collateral marketing materials to present more consistent - and memorable - brand experiences.
Seay, who also sits on the board of the American Advertising Federation's 5th District, explained Aroma Marketing's unique effect. He said that the signature scents SensoryMax created for Lincoln and Ford reinforce each brand's values and personality. And since the sense of smell is so closely tied to memory, consumers are more likely to recall their experience with Lincoln or Ford whenever they encounter those scents in the future.
"As we transform our dealer network to provide a higher level of client experience, we look for ways to engage the senses of every visitor," said Enza Sleva, Lincoln Client Experience Manager. "The Essence of Lincoln scent is an extension of that initiative. We applaud SensoryMax for this recent honor and thank them for helping shape the future of the Lincoln showroom experience."
SensoryMax partnered with Master Perfumer Rene Morgenthal to create the Essence of Lincoln signature scent. "My approach to the fragrance design was to preserve the rich heritage of Lincoln, while incorporating vibrant, modern elements for a unique signature sophisticated scent,' said Morgenthal. "I am privileged to be part of revitalizing a classic American brand."
"People have an amazing capacity to remember certain scents and associate them with specific places, experiences and even brands," said Seay. "Aroma Marketing taps into that natural recall to help brands make a deeper connection with their customers."
About SensoryMax
An agency of Madison Avenue Marketing Group, SensoryMax uses aroma, audio, video and tactile strategies to stimulate and appeal to the senses of sight, smell, hearing and touch. The goal is to create unique, memorable branded impressions that encourage specific consumer behavior.
Lighting and video can be used to affect how people move through a space; background music will influence the mood, energy and customer pacing; and aroma can create a more pleasant shopping experience, while anchoring those moments in the customer's memory – often for a lifetime!
Learn more at SensoryMax.com.