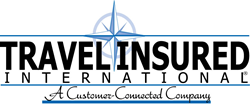 East Hartford, CT (PRWEB) June 18, 2014
Travel Insured International, a leading family-owned travel insurance provider to the travel agency & supplier community, has recently released a new retail product line in order to reduce the complexity of various travel insurance products being provided to agents to offer to their clients.
With the release of the new products, Travel Insured International is excited to announce a brand new never before seen benefit – Interruption For Any Reason coverage. This benefit is available with purchase of the Worldwide Trip Protector Plus.
While Travel Insured has offered Cancel For Any Reason, Interruption For Any Reason adds a whole new dynamic to the coverage available. Get a business call and have to make a mandatory meeting which causes the vacation to be cut? Receive a phone call that a pet isn't doing well in the kennel? Just need to get home earlier because someone is feeling homesick? Interruption For Any Reason is there to help cover pre-paid, non-refundable trip costs.
What The Interruption For Any Reason Benefit Covers:
The Interruption For Any Reason benefit provides up to 75% cash reimbursement if a traveler must interrupt the trip 72 hours or more after the actual departure date. This may cover unused, prepaid, non-refundable trip costs.
Plus, the additional transportation cost paid to join the trip if the traveler must depart after the scheduled departure date or travel via alternate travel arrangements with the most direct route. Also to rejoin the trip or transport to the originally scheduled return destination if it interrupts your trip after departure.
Travel Insured is excited to be introducing the new benefit after taking suggestions from agents and customers and is already receiving high remarks regarding the addition. - "Not only did Travel Insured introduce Interruption For Any Reason, a new, never seen before travel insurance benefit, but they simplified the whole purchase process all together by making it faster and easier, and helping us do more business the right way." - Jeff Sonenstein, President of Globe Travel Service.
Travel Insured International
52-S Oakland Ave.
E. Hartford, CT 06128-0568