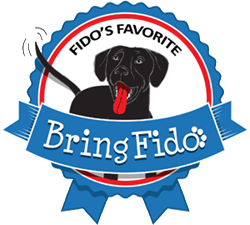 Greenville, SC (PRWEB) June 19, 2014
Hyatt Regency Greenville is pleased to announce that it has been honored as a 2014 Fido's Favorite Award winner by the pet friendly travel website BringFido.com. This annual award recognizes hotels, inns and bed & breakfasts that attain superior pet-friendliness ratings from BringFido.com customers. Fewer than 5% of all pet friendly accommodations receive this distinction.
As the world's leading pet friendly travel website, BringFido.com is committed to helping pet owners find accommodations that truly welcome and cater to the needs of their four-legged travel companions. The website relies on its 12 million annual visitors and BringFido app users to review and rate properties on a 1 to 5 "dog bone" scale. Only 4-bone or higher rated properties are eligible for a Fido's Favorite Award.
Hyatt is pleased to welcome traveling canine companions into the hotel. In addition, dogs can lap up pup-tini's at Hyatt's monthly Yappy Hour at NOMA Square while their owners enjoy Yappetizers, live music, and specialty drinks from Roost restaurant. Special Events Manager Lauren Justus says, "Yappy Hour has been a big hit in our dog-friendly downtown. It's amazing to see the community of dog lovers and dog owners come together, and it allows our guests traveling with their dogs a chance to socialize their pup during their stay while enjoying one of our famous pup-tinis!"
"BringFido.com is proud to recognize Hyatt Regency Greenville for its accomplishment in providing excellent service and accommodations to travelers with pets," said Melissa Halliburton, President and Founder of BringFido.com. "Our customers appreciate the extra steps that properties take to ensure a comfortable stay for pets and their owners."