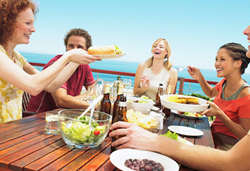 With vacation time becoming more scarce due to tight budgets and work obligations, families want to make the most of their time away. Translation: they want to relax, not labor.
Somerdale, N.J. (PRWEB) June 18, 2014
If you're vacationing in a rental this summer, consider how you're going to feed your hungry brood after a day on the beach or the ocean. You can cut your fun short to prepare a self-respecting meal for everyone, slaving in the kitchen while everyone else showers and chills on the deck, or pile the clan in the SUV for a long wait and expensive meal at the hot seafood restaurant. Or, you can order takeout, which is easy but less-than-nutritious.
Another option is becoming increasingly popular for beach vacationers and timeshare owners: hiring a personal chef, either for a single meal, the duration of the trip, or some combination thereof.
"The point of vacation is to enjoy yourself and enjoy your family and friends, so why burden yourself with cooking? You can have the food-related amenities of a resort in your rental home," says Kim Osinski, owner of Chef Kim's Kitchen, a caterer and personal chef service in Southern New Jersey. "That might mean gourmet meals prepared in advance and ready to heat, a freshly cooked dinner for you and your guests on one special night, or simply arriving to a fully-stocked refrigerator at the start of your vacation."
Osinski, who prides herself on creating comfort foods as well as exceptionally creative fare, says she has observed an uptick in summer rental-related catering requests the last three years. She attributes this to the fact that with vacation time becoming more scarce due to tight budgets and work obligations, families want to make the most of their time away. Translation: they want to relax, not labor.
As a result, Osinski has taken in-home cooking and delivery to a new level, sometimes pre-stocking a rental home with groceries and household necessities before the client even arrives. She also caters to yachts, recreational boaters, and day-trip fishing charters, meeting the boat at the marina before they go out with fully prepared meals, or sandwiches with all the sides.
Occasionally, she will be invited along to cook and serve the food at sea, which she will happily do. But mostly she's a landlubber, getting everything ready for hungry, frequently sunburned, families when they return to their rental. Besides the Jersey Shore, Osinski will provide in-home chef services along the coast of Delaware and Maryland, including Rehoboth and Bethany beaches and Ocean City.
"It's different cooking meals in vacation rentals than cooking for a parent who's had a busy day at work," Osinski notes. "They're all happy to see you, but everyone's so joyful when you're preparing dinner for them on vacation. Sometimes they make me feel like part of the family."
For more information on Chef Kim's Kitchen, visit http://www.chefkimskitchen.com or call 609-206-0341.
*****
Here are a couple of Chef Kim's favorite summer dishes for the East Coast beach crowd:
Sautéed Chicken with Jersey Tomato Relish

1 pound Boneless, Skinless Chicken Breast, pounded thin
2 Large, Ripe Jersey Tomatoes, diced
1 Small Red Onion, diced
1 Handful Fresh Basil cut into ribbons
½ Cup Flour
1 Tbs. Butter
Olive Oil
Balsamic Vinegar
Salt and Pepper
Season chicken generously with salt and pepper on both sides. Dredge in flour; make sure both sides are covered. Heat butter and 3 tablespoons of olive oil in large skillet. Just before it begins to smoke, add chicken and sauté for 2-3 minutes or just until cooked through.
Combine remaining ingredients and season with salt and pepper. Arrange chicken on plate and spoon tomato relish over it. Drizzle lightly with Balsamic Vinegar.
Delicious served hot or cold.
Serves 4
Watermelon Feta Salad
6 cups ripe watermelon, cubed
1 cup feta cheese, crumbled
1/4 cup red onion, thinly sliced
1/4 cup fresh mint, chopped
1/4 cup lime juice (about 2 limes)
1 tbsp extra-virgin olive oil
Place the watermelon, feta, red onion, and mint in a large bowl. Pour the lime juice and olive oil over the ingredients and gently toss to mix. Serve immediately. If not serving immediately, you can toss everything but the feta cheese together, then sprinkle the feta over the top before serving.
Serves 6-8 people