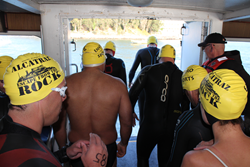 Great Giant Moving Company truly values having a partner that cares about the same things we do; health, wellness, fitness, and community.
San Francisco, CA (PRWEB) June 19, 2014
Great Giant Moving Company is pleased to announce the continuation of their partnership with Enviro-Sports, an organization that for the past 26 years has produced triathlons, trail runs, and open water swims throughout the United States. Enviro-Sports was founded on the principle of allowing people to challenge themselves in new environments they haven't seen before, be it "Swimming with Sharks" under the Golden Gate Bridge or "Escaping from the Rock" off Alcatraz Island.
Back in 2011 when Boston moving company Gentle Giant opened their first San Francisco moving company office, called Great Giant Moving Company, they began researching several health and wellness-focused organizations to partner with to help meet the community they would soon be serving. Enviro-Sports made a perfect partner with Great Giant because of the excellent reputation they've earned by organizing several high profile athletic events around San Francisco. Over the past four years, the relationship has been so successful that Gentle Giant has begun helping with Enviro-Sports events across the country, including Shark Swims in Boston and Rhode Island.
Before and during events, Great Giant Moving Company's manager Brandon Sparks works closely with Enviro-Sports Director David Horning to facilitate manpower, storage, deliveries, and other transportation needs to help the events run smoothly. Now that Great Giant has successfully aided in several past events for Enviro-Sports, the Giant crews can confidently apply their high standards for customer service and care to whatever needs to be done during the events.
"Providing on-site logistics for various Enviro-Sports events has been amazing for Great Giant in San Francisco," explains Sparks. "We truly value having a partner that cares about the same things we do; health, wellness, fitness, and community."
Enviro-Sports has several events this month, including the Alcatraz Sharkfest® that happened June 7th, and the 4th Annual Golden Gate Sharkfest® swim this weekend. Great Giant will be there to help the swimmers and runners with their gear and other race logistics. To sign up for future events, including the 34th Annual Alcatraz XXXIV Escape from the Rock™ on July 20th, visit http://www.envirosports.com.
About Great Giant Moving Company, Inc.
Great Giant Moving Company is a division of the Boston-based Gentle Giant Moving Company. Founded in 1980, Gentle Giant is an award winning residential and commercial mover, offering local moving, long distance moving, and international moving services. Named 2009 Independent Mover of the Year by the American Moving and Storage Association, one of the Boston Business Journal's Best Places to Work in Massachusetts in 2004, 2005, and 2006, winner of the 2006 International Torch Award for Marketplace Ethics by the Better Business Bureau, winner of the Better Business Bureau's Torch Award for Excellence in 2002, 2003, 2005 and 2008, nine-time winner of Boston Magazine's "Best of Boston," six-time winner of The Improper Bostonian's "Boston's Best Moving Company" award, thirteen-time winner of the Angie's List "Super Service" Award, 2007 Top Small Workplaces award from the Wall Street Journal and Winning Workplaces, and named a Healthiest Employer in 2013 by the Boston Business Journal, the company's services include craning, piano moving, complete packing and unpacking services, and other related services. Gentle Giant offers storage facilities and dispatches crews from more than 19 offices in California, Chicago, Massachusetts, New Hampshire, New York, North Carolina, Rhode Island, Virginia, Washington, DC and Washington State. For more information, please call (617) 661-3333 or visit http://www.gentlegiant.com