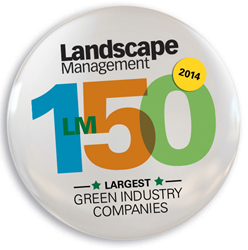 To be included as one of the top 150 largest Green Industry companies across the nation is such an honor and we could not be where we are today without the fantastic team that is running the show every day. Chris Senske, Chief Executive Officier
Kennewick, WA (PRWEB) June 18, 2014
Landscape Management release its 2014 LM150 list of the Green Industry's largest companies ranked by 2013 revenue. Senske Services, based in Kennewick, Wash. ranked No. 66 on the list with $19.8 million in 2013 annual revenue.
The landscape industry's top 150 revenue-generating firms logged a combined $7,668,025,804 in 2013 annual revenue - a 0.2 percent drop from last year's list totaling $7,689,821,749 in 2012 annual revenue. The figure remains lower than 2010's nearly $7.8 billion total. Overall, LM150 companies average a 12 percent growth rate from 2012 to 2013.
"Congratulations to Senske Services and all the companies on this year's LM150 list," said Marisa Palmieri, editor of Landscape Management. "Many of the firms on this list are the best of the best. It's an honor to be among them."
Landscape Management, a national trade publication based in Cleveland, shares new ideas to inspire and empower landscape professionals to run more efficient, profitable businesses. It's the leading information resource for lawn care, landscape maintenance, design/build and irrigation professionals.
Senske Services, Inc. is a leading lawn, tree and pest control service provider that is locally owned and operated, with its corporate office based in Kennewick, Washington. It has been a trusted source of lawn, tree and pest control services for more than 65 years across Eastern Washington, Idaho, and Utah, as well as pest control in Las Vegas, Nevada. To see what Senske Services can do for you, visit http://www.senske.com.