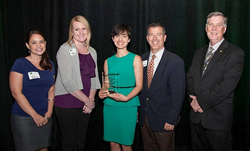 What makes us unique is that we're delivering hope to families and communities around the world.
Sarasota, FL (PRWEB) June 18, 2014
By a panel of 40 judges who selected eight winners from a pool of 24 finalists, ShelterBox USA has been named the International Organization of the Year and was honored at the 2014 Frank G. Berlin Sr. Small Business Awards luncheon on Friday, June 13.
Each year, the Greater Sarasota Chamber of Commerce Small Business Awards celebrates businesses and organizations for their innovation and service to their community.
"Small businesses are the greatest part of our community and economy," Greater Sarasota Chamber of Commerce President Steve Queior said during the awards luncheon. "You're the backbone of our community and the country, and we're honored to be able to facilitate this salute to you."
ShelterBox, which provides humanitarian relief in the form of supplies that bring shelter, warmth and dignity to families displaced by natural disasters and other crises, was honored for its community impact on a global and local level. Its U.S. headquarters based in Sarasota, the organization's staff and volunteers are engaged in the local community—both by representing ShelterBox and by following their passions to help children's charities and carry out service throughout local Rotary clubs.
"Our true impact as an organization is made in communities like Sarasota around the world," said Emily Sperling, president of ShelterBox USA. "By helping families with the essentials they need after disaster – providing shelter and access to clean water – they can focus their compromised energy on rebuilding their lives and livelihoods, ultimately making an economic impact in their communities and restoring their communities and quality of life to what they were before the disaster.
"What makes us unique is that we're delivering hope to families and communities around the world."
Learn more about ShelterBox at http://www.shelterboxusa.org.